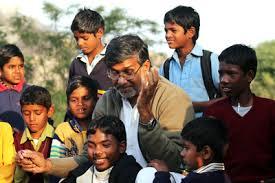 Who really knew Kailash Satyarthi? If the name still sounds new, he is the winner, together with the much more famous Malala of this year's Nobel Prize for Peace. Honestly speaking I never heard of him before the announcement.
After reading the news I discovered that we were talking about the Founder and Chair of the Global March against Child Labor besides being also the Co-Founder of the Global Campaign for Education.
The Global March against Child Labor is the pioneer movement to reclaim and campaign to ensure children are ensured with their inalienable rights.
Here we are talking about a real grassroots based movement spread all over the world. When I am talking about grassroots movement I am talking about something built with sweat, pain, tons of sacrifices and an unbreakable determination. Built on often intransigent and uncompromising stances, the movement advocates for a better world for children through real changes in a system that generates poverty, exploitation and discrimination. It aspires to a society where power relations are reversed for the betterment of child wellbeing.
The Global March did not shy away from modernity with its marketing and global communication tools.
Without them, the movement would not have reached its global standing. Yet here we are talking more about substance rather than marketing. It is very interesting and highly appreciable that there are still out there social organizations which are mostly focused on delivering a message rather than "selling" it.
To some extent the Global March is an "authentic" and "genuine" organization simply driven by sheer willingness to change the status quo, improving, thanks also through a strong leveraging of its campaigns, the living conditions of millions of children worldwide.
Kailesh started in 1980 with a group of friends an organization called Bachpan Bachao Andolan, BBA that means Save The Childhoold Movement.
We all know about Save The Children, the global child organization which boosts, globally, a budget of hundreds of millions of dollars. We know its logo, its identity, powerful resources and the capability of doing good but still why people know more about Save the Children rather than Save The Childhood Movement?
Certainly the real advocates of child rights, those who can unquestionably define themselves as real social workesr, those who get their hands dirty, have held Kailesh as their hero since the beginning of his fight. Given also his extensive work against child trafficking in Nepal, many activists here are well versed with him.
ABB is based on the concept of social justice and is convinced that the power of people can bring change. Within the initial years from its foundation, it started unionizing stone quarry and brick kiln workers and soon brought the First Public Interest Litigation on child rights in the Supreme Court of India. By 1982 BBA had already accomplished rescue operations in 10 Indian states. He soon started working at the international level, including campaigning and children rescuing in Nepal.
Kailesh's unique strength was to understand that working at the grassroots level, being directly in the frontline was not enough. He understood that change can happen only if the system is "structurally" modified and this is possible only through a combination of local, national and global mass campaigning.
Marketing has its intrinsic power in spreading a message; it is amazing in building a brand for social good but hardly can generate the level of engagement, personal commitment and inner strength needed to form a social movement.
This is exactly what Kailesh achieved by preferring campaigning to marketing.
Through Facebook certainly you can organize protests and manifestations but generally they all tend to be short term. A movement surely can use Facebook but its foundations are deeper and stronger. It is sustained by the sheer determination and self-nourished by the pain of its members.
Campaigning is probably the most democratic way of doing advocacy. It is about empowering the masses, including children and their families, to exert pressure at multiple levels.
The fact that Kailesh initially thought of creating a movement rather than simply setting up an NGO is something significant. He did not have any personal ambition, not the EGO that drives many of us working in the social sector. He did not bother about visibility or setting up something he owned. The masses, the children and their family owned it. The rest, the global civil society part of it were important constituencies but at the core group of the movement there were those being exploited.
When I was at a child, I was aware of the Global March against Child labor. My sister had made some small donations to Mani Tese, a local member of the movement in Italy.
Mani Tese, well reflecting the philosophy of BBA and Global March has a strong reputation of "radical" organization working, often low profile, to fight for the wellbeing of the children all over the world. The adjective "radical" should be seen in the positive way and should not be confused with "extreme".
Being radical in the fight against child labor means not compromising about key values and philosophy; it means staying 100% original to its mission and vision of a different society; it means not being afraid to go against the main "institutional" stream of children organizations   representing the "establishment"; it also means to be sometimes controversial because of its adherence to its credo and its pure integrity.
Always striving for a middle ground position, often moved by a liberal concept of justice and fairness, I might different on positions and strategies taken by these movements but I do admire the tenacity, uncompromising willpower that they possess and agitate to break the status quo. Consistency, humility in the working approach and unbreakable sense of justice brought a well-deserved Nobel Prize. Why did it take so long?
We used to receive newsletters from Mani Tesi on a periodic basis and I do remember about talking about it in the classroom. I can say that my little personal journey for social justice probably started by reading the periodic newsletters sent by Mani Tese.
I was wondering and dreaming about faraway and poor countries like Brazil and Burkina Faso where the organization was active.
The idea was fascinating to me: marching to affirm the rights of my peers from the other side of the world. The movement at the end succeeded to mobilize millions of people and held a global march in 1998 across 103 countries. It was a success but it did not get the  media coverage it deserved. I am wondering why we had to wait for the Nobel Prize committee to make justice and recognize the achievements of Kailash Satyarthi.
Again we go back to the role of communication and how global media, by intention or ignorance, pick and choose those who we consider as global heroes.
How important is the role played by communication to project the identity of one organization or one personality versus others?
While appreciating the power of social media and communication in advocating for change in the living conditions for millions of children, we should be aware that the same do contribute to build strong social brands whose achievements are often overemphasized or at least must be validated.
Instead the decision of the Nobel Peace Prize's committee to recognize an unheard hero like Kailash Satyarthi matters a lot because it gives a strong signal that also the unconventional, unbreakable radicals, like or dislike their stances and tactics, are the best at bringing change.