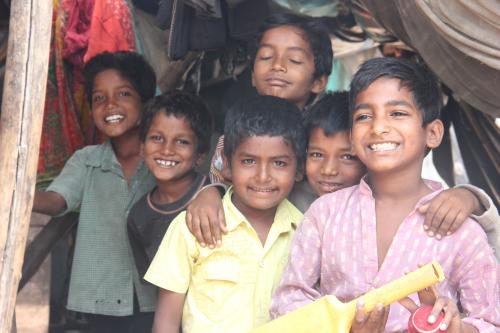 In India the urban governance process are slow in recognizing children as discrete group with exclusive needs and rights. Despite some key legislation on protection of children rights, still a lot needs to be done for special treatment of children who live in difficult circumstances. In India we have 7.6 million young children in the age group of 0-6 years who live in a condition which is defined by the census of India as not fit for dwelling. And the place of dwelling is best known as 'SLUM'. It means our next generation to come from these slums will not cherish their childhood as they will grow up in such an inhuman condition. We always say children are our future citizens but we often forget to secure their present. There are 53 percent of urban poor children suffer from anemia. Malnutrition measured through underweight (47.1%) and stunted children (54.2 %) is significant among the urban poor. A study by the Ministry of Urban Development, Government of India (2009) finds that 23 million below the age of 14 in urban India are at risk from poor sanitation.
The treatment of young children living in urban poverty are not safeguarded by any legal provision or by any specific policy. We show our love and kindness for children but never realize that it may be merely abstraction as our political and social surroundings are not child friendly. These children are not free from abuse, exploitation, contamination, other risks arising out of unsafe living condition and above all deprived of basic minimum services.
By terming them as slum kids we restrict them to fulfill their needs and aspirations barring very few. Their dreams are never being realized. When the government itself terms their dwellings as unsafe and unhealthy, how can we expect these young children to make big in the so called mainstream society.
Children do not vote, so they are not the priority of the political class. Hence keeping young children clean becomes very difficult, even impossible in a contaminated surrounding. Therefore the issues of urban poor children become imperative in not only inviting for immediate intervention but also for addressing those issues in larger urban governance policies( Barlett 2003; Agarwal and Taneja 2005). The government needs to think of it seriously and do the required investment on young children living in urban poverty.