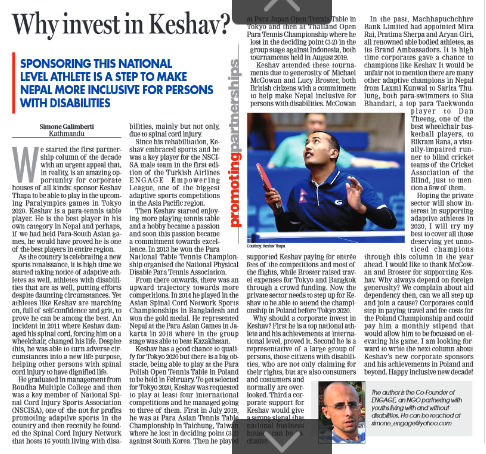 We started the first partnership column of the decade with an urgent appeal that, in reality, is an amazing opportunity for corporate houses of all kinds, from banks to insurance companies to cement producers to all major hotels and travel agencies to private colleges: sponsor Keshav Thapa to be able to play in the upcoming Paralympics games in Tokyo 2020.
Who is Keshav first of all and why should you sponsor him?  Keshav is a para-tennis table player and he is the best player in his own category in Nepal and perhaps, if we had held the Para-South Asian games, he would have proved he is also one of the players in the entire region.
As the country is celebrating a new sports renaissance, it is high time we started taking notice of adaptive athletes as well, athletes with disabilities that are as well, putting a lot of efforts despite very daunting circumstances.
Yet athletes like Keshav are marching on, full of self-confidence and grit, determined to prove he can be among the best.
An incident back in 2011 where Keshav damaged his spinal cord, forcing him on a wheelchair, changed his life.
Despite thisset back, he was able to turn adverse circumstances into a new life purpose, helping other persons with spinal cord injury to have a dignified life.
He graduated in management from Boudha Multiple College and after that he was a key member of the National Spinal Cord Injury Sports Association, N.S.C.I.S.A., one of the most important not for profits promoting adaptive sports in the country and then more recently he founded a new organization, the Spinal Cord Injury Network that hosts 16 youths living with disabilities, mainly but not only, due to spinal cord injury.
Since his rehabilitation, Keshav literally embraced sports and he was a key player for the N.S.C.I.S.A male team in the first edition of the Turkish Airlines ENGAGE Empowering League, one of the biggest adaptive sports competitions in the entire Asia Pacific region.
Then Keshav started enjoying more and more playing tennis table and a hobby became a passion and soon this passion became a commitment towards excellence.
In 2013 Keshav won the Para National Table Tennis Championship organized the National Physical Disable Para Tennis Association.
From there onwards, there was an upward trajectory towards more and more competitions, including championships played overseas.
In 2014 Keshav got the chance to play in the Asian Spinal Cord Network Sports Championships in Bangladesh where he won the gold medal.
Remarkably he was able to represent Nepal at the Para Asian Games in Jakarta back in 2018 where in the group stage was able to beat Kazakhstan.
Now Keshav has a really good chance to get qualified for Tokyo 2020 but there is still a big obstacle, being able to play at the Para Polish Open Tennis Table in Poland that will be held in February 2020.
In order to be able to be selected for Tokyo 2020, Keshav was requested to play at least four international competitions and he managed, despite many challenges, going to three of them.
First in July 2019, he was at Para Asian Tennis Table Championship in Taichung, Taiwan where he lost in the deciding point (3-2) against South Korea. Then Keshav was able to be at Para Japan Open Tennis Table in Tokyo and then at the Thailand Open Para Tennis Championship where he lost, always in the deciding point (3-2) in the group stage against Indonesia, both tournaments held on August 2019.
Keshav was able to attend all these tournaments thanks to the generosity of Michael McGowan and Lucy Broster, both British citizens with a long commitment to help make Nepal more inclusive for persons with disabilities. Michael supported Keshav in a big way paying for entrée fees of all the competitions and most of the flights while Lucy raised travel expenses for Tokyo and Bangkok through a crowd funding.
Now the private sector needs to step up in order for Keshav to be able to attend the championship in Poland, the most affordable, in terms of fee, championship before Tokyo 2020.
Why should a corporate invest in Keshav? Is there a business case?
First Keshav is a top national athlete and his achievements at international level, proved it. Second it makes sense to support him because he is a representative of a large group of persons, those citizens with disabilities, who are not only claiming for their rights, but are also consumers and costumers and normally they are overlooked.
Third a corporate support for Keshav would give a strong signal that national business houses can be inclusive.
In the past, Machhapuchchhre Bank Limited, MBL, had appointed Ms. Mira Rai, Ms. Pratima Sherpa and Mr. Aryan Giri, all renown able bodied athletes, as its Brand Ambassadors.
It is high time corporates gave a chance to champions like Keshav.
Believe me it would be unfair not to mention there are many other adaptive champions in Nepal from Laxmi Kunwal to Sarita Thulung, both para-swimmers to Sita Bhandari, a top Para Taekwondo player to Dan Theeng, one of the best wheelchair basketball players, to Bikram Rana, a visually impaired runner to the blind cricket teams of the Cricket Association of the Blind, just to mention few of them.
Hoping that the private sector will show interest in supporting adaptive athletes in 2020, I will try my best to cover all those deserving yet unnoticed champions through this column in the year ahead.
Meanwhile i would like to personally thank Michael McGowan and Lucy Broster for supporting Keshav.
Why always depending on foreign generosity? We always complain about aid dependency then, can we all step up and join a cause?
Corporates could step in paying all the travel and fee costs for the Poland Championship and also could pay him a monthly stipend that would allow him to be focused on elevating his game.
I am truly looking forward to write the next column about Keshav's new corporate sponsors and his achievements in Poland and beyond. Happy inclusive new decade!
Galimberti is the Co-Founder of ENGAGE, an NGO partnering with youths living with and without disabilities. He can be reached at simone_engage@yahoo.com