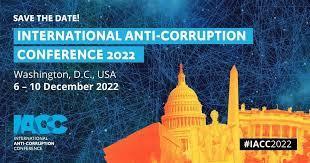 https://www.transparency.org/en/news/registration-open-2022-internationa...
https://iaccseries.org/20th-iacc/agenda/theme-agenda-tracks/
5 global plenaries. 60+ workshops. 130+ nationalities.
Years of insufficient action against corruption by governments have led us to a critical juncture: while we continue to grapple with the vast and unprecedented consequences of the pandemic, kleptocratic regimes are endangering the global order. Corruption fuels these threats, hinders responses and endangers every person's right to live in peace and security.
This makes our global movement against corruption more important than ever. Together, we can build on our achievements and accelerate our momentum in the fight for the future we want.
Six key global challenges form the main agenda tracks for this year's conference. Until 15 August 2022, everyone working to end corruption can submit a workshop proposal under any one of these tracks. Find out more here.
Other IACC Initiatives
As the Conference only takes place every second year, the IACC team at Transparency International (TI) are involved in a number of ongoing initiatives to keep up momentum between Conferences. They include the IACC Social Entrepreneurs Initiative, the Young Journalists initiative, Fair Play Anti-Corruption Concerts, and series of Films for Transparency among others. You can read the latest articles on our blog.
19th IACC Host
The 19th IACC was hosted Government of Republic of Korea represented by the Anti-corruption & Civil Rights Commission (ACRC), and organised by the IACC Council and TI, with the participation of TI Korea. The 19th IACC took place from 1 to 4 in December 2020.