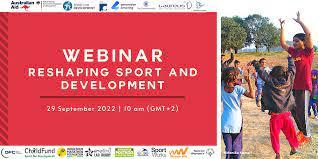 sportanddev and global partners launched the Reshaping Sport and Development campaign to increase equity, access and inclusion in sport and development. We ran a public call for articles asking actors how sport can better serve society, receiving over 90 articles from all six continents.
We are now inviting stakeholders to join an interactive webinar on this topic. Hear from campaign partners and article authors on concrete steps for sport and development moving forward.
Register here – and please spread the word.
Webinar
Date: 

Thursday 29 September

Time: 

10am-11:30am (GMT+2)
Presenters and Panellists
Mr.

 Marius Dietrich, Senior Policy Officer, BMZ

Ms. Wiebke Scheffler, Head of Operations, ITTF Foundation

Mr. Nasser Al Khori, Executive Director, Generation Amazing

Ms. Roshika Deo, Social Inclusion Specialist, Team Up

Mr 

Anirban Chakraborty, University of Tsukuba

Ms. Aviwe Funani, 

Policy and Advocacy Manager, Waves for Change
Moderators: Mr Ben Sanders and Ms Marisa Schlenker
Register here – and please spread the word.