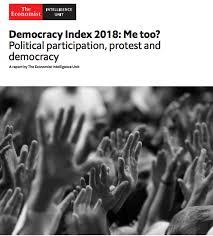 http://www.eiu.com/topic/democracy-index
"The EIU Democracy Index provides a snapshot of the state of world democracy for 165 independent states and two territories. The Democracy Index is based on five categories: electoral process and pluralism; civil liberties; the functioning of government; political participation; and political culture. Based on their scores on 60 indicators within these categories, each country is then itself classified as one of four types of regime: full democracy; flawed democracy; hybrid regime; and authoritarian regime"
Democracy Index 2018
Top 5

Rank

Movement

Country

Score

Democracy Index 2018
Bottom 5

Rank

Movement

Country

Score

1

 

Norway

9.87

2

 

Iceland

9.58

3

 

Sweden

9.39

4

 

New Zealand

9.26

5

 

Denmark

9.22

163

↑ 2

Chad

1.61

164

 

Central African Republic

1.52

165

↓ 2

Dem. Republic of Congo

1.49

166

 

Syria

1.43

167

 

North Korea

1.08
See the full Democracy
partic
ipation is on the rise in almost every region of the world. Whilst clearly disillusioned with formal political institutions, the population has turned anger into action, and turned out to vote, and to protest. The most striking advance has been in the participation of women – in the past decade the indicator has improved more than any other single indicator in our model. This improvement takes place amid a deterioration of trust in democracy, evident in the worsening of most categories in this year's Index.