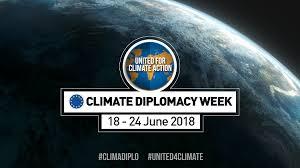 Climate Diplomacy Week is a time, where EU Delegations around the world reach out to communities and partner organisations, highlighting positive global action and collaboration on climate change. 2018 will see two Climate Diplomacy Weeks: the first one from 18-24 June and the second one from 24-30 September 2018.
With 2018 the year of the 'Talanoa Dialogue' – a facilitative process to help review progress towards the global goals of the Paris Agreement ahead of COP24 – the EU Foreign Affairs Council in its last conclusions emphasised the need to continue to strengthen political outreach and public diplomacy on climate issues, up to the highest official levels and involving the full range of regional and sub-regional actors (see press release). The Talanoa Dialogue will be the central theme for EU climate diplomacy week in 2018.
Also the climate security nexus climbs up the agenda: on 22 June, High Representative Frederica Mogherini will convene and host a high-level event on climate security.
The first German-UK-French Climate Diplomacy Day was held on 9 September 2014. Events held that day in German, British and French missions in over 30 countries highlighted the importance of our climate diplomacy partnership, showcased successful climate projects, and emphasised the need for ongoing climate action. The Climate Diplomacy Day has been continued since then.Examples from activities organized in 2016 are the exchange organized by the German Federal Foreign Office, the activities of the German embassy in Seoul and the EU delegation in Moscow.