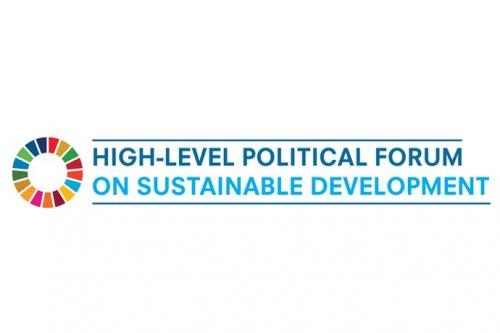 http://sdg.iisd.org/news/zero-draft-of-hlpf-outcome-outlines-recovery-ac...
The agreed outcome of the 2022 UN High-level Political Forum on Sustainable Development (HLPF) is under discussion among UN Member States in "zero draft" form. The next consultation on the draft Ministerial Declaration will convene on 22 April in the ECOSOC chamber.
The co-facilitators for consultations on the Ministerial Declaration of the 2022 HLPF and 2022 session of the UN Economic and Social Council (ECOSOC) – the permanent representatives of Italy and Nauru – circulated the draft on 14 April. The zero draft is based on inputs from delegations in writing and during a meeting on 4 April 2022.
The draft calls for all actions, including COVID-19 responses, to be gender-responsive.
The introduction to the draft expresses governments' recognition of the 2030 Agenda as "the blueprint for building back better" from the pandemic. It also expresses concern about current challenges and threats, including that poverty reduction is being reversed for the first time in decades, and the triple planetary crisis of climate disruption, biodiversity loss and pollution, and its effects on the future of the planet. Among other points, the introduction reaffirms that all actions, including COVID-19 responses, should be gender-responsive.
The zero draft also includes sections on: the impact of COVID-19 on the 2030 Agenda, and actions to recover while accelerating SDG progress; the status of each SDG under in-depth review at the 2022 HPLF, and the voluntary national reviews (VNRs); and a roadmap for the way forward. In the way forward section, the draft, inter alia:
welcomes the UN Secretary-General's 2021 'Our Common Agenda' report as a concrete vision to turbocharge the implementation of the SDGs and the Paris Agreement on climate change;
supports the work of the Global Crisis Response Group on Food, Energy and Finance, and welcomes its first report;
supports "emerging avenues" to accelerate the 2030 Agenda, including 'Space2030,' a strategy to strengthen the role of space tools in the achievement of the SDGs, and emerging measures of progress to complement GDP, such as the in-progress multidimensional vulnerability index (MVI); and
encourages ambitious outcomes for the Sharm El-Sheik Climate Change Conference (UNFCCC COP 27), the mid-term review of Sendai framework for disaster risk reduction (DRR), the mid-term review of the Water Action Decade, the SDG Summit, the Transforming Education Summit, and the Summit of the Future.
The draft calls on countries and institutions to take action on the ten areas identified at the 2019 SDG Summit between now and the 2023 SDG Summit. It also invites the UN Secretary-General to mobilize Member States, the UN system and stakeholders in preparing for the SDG Summit "so that it marks the beginning of a new phase of accelerated progress towards the SDGs."  [Letter from co-facilitators] [Zero draft of 2022 ministerial declaration] [HLPF documents]