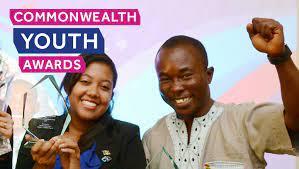 https://thecommonwealth.org/news/young-people-across-commonwealth-recogn...
Organised by the Commonwealth Youth Programme, the awards recognise outstanding Commonwealth young people (aged 15-29), from the different Commonwealth regions (Caribbean, Africa, Asia, Europe and Canada, and Australia and the Pacific) whose projects are transforming lives in their communities; providing practical solutions to complex problems and helping to achieve the UN Sustainable Development Goals and 2030 Agenda.
Addressing the awards ceremony, Commonwealth Secretary-General, the Rt Patricia Scotland QC said:
"Young people are central to the role and purpose of the Commonwealth – and at the heart of our work. 

"One of the many things that amazes and excites me most about our Commonwealth young people is their ingenuity.

"Whether the challenge they are tackling is new or centuries-old, their innovative spirit, energy and passion offer us out-of-the-box solutions that can change the world for the better.

"I am proud to put our incredible young people in the spotlight with these awards."
The five regional award winners are: 
Africa: Franc Kamugyisha, Uganda, for launching 'EcoPlastile' - a recycling initiative that turns consumer waste into roofing materials and biodegradable facemasks.
Asia: Edward Yee, Singapore, for co-founding 'GivFunds Social Ventures,' a non-profit organisation which provides sustainable and low-cost capital to neglected social enterprises.
Caribbean: Mickel Alexander, Trinidad and Tobago, for founding 'The 2 Cents Movement' – a youth-led, arts-based educational programme supporting up 30,000 young people annually.
Europe and Canada: Jemima Lovatt, United Kingdom, for launching an initiative that partners with businesses to address taboo gender inequality topics such as domestic abuse, sexual harassment, and unequal pay.
Pacific: Thompson Auri, Papua New Guinea, for a project renovating closed airstrips so isolated communities have vital access to treatment and services.

Award Winners

More than 1,000 entries were received this year – the highest ever recorded. Twenty finalists were selected across each of the award's regional categories following a rigorous judging process.

Each regional winner will receive £3,000 for their project. 

In addition to winning the regional award for Africa, Franc Kamugyisha has won the overall title of 2022 Commonwealth Young Person of the Year and will receive a total of £5,000.

Franc was inspired to start 'EcoPlastile' by his own experience of living in a slum community in Kampala.

There he witnessed the dire consequences of poor waste disposal; with post-consumer waste plastic littering streets, clogging sewers, and encroaching on poorly built houses during heavy rains.

The project has created over 180 jobs paying 1.9 times the national wage, recycled 360 tonnes of plastic; and has launched a microinsurance programme through which over 100 uninsured households can use plastic waste as a financial resource for medical services. 

Accepting the prestigious award, Franc said:

"Winning the Commonwealth Youth Award is a stamp of approval for our small efforts as a social enterprise. It means a lot to EcoPlastile on our strategy to scale and impact a bigger community in Africa.

"The recognition from the Commonwealth Youth Award will enable us to get more visibility and connect us to young and like-minded young people across the world solving today's global challenges."

Special prize

To mark the Queen's Platinum Jubilee, the Commonwealth Secretariat has partnered with the Queen's Commonwealth Trust (QCT) to offer an additional prize of £40,000 in funding to one project, delivered over the course of two years.

The winner will also be enrolled onto the QCT's Platinum Jubilee Fund programme and given access to coaching and development opportunities to help their project flourish.

Edward Yee, from Singapore, is the winner of this incredibly special prize thanks to his work with 'GivFunds Social Ventures.'

The initiative has impacted over 45,000 lives directly, over 900,000 lives indirectly, and has helped many social enterprises raise multimillion dollar funding from a range of high-profile sources.

He said:

"This recognition from The Queen's Commonwealth Trust will be a game changer for us.

"It will super-charge our growth and between the funding, coaching, and development opportunities this award provides, it will allow us to expand our team and double down in tech and data.

"It will allow us to have a more data-driven approach towards expanding our social enterprises across the most remote regions in Southeast Asia."

Innovative projects

Jemima Lovatt, a lawyer from London founded 'Thrive' - a social enterprise which provides education on gender equality to businesses and communities, helping to address the causes of taboo issues like domestic abuse and unequal pay.

Her clients include CHANEL, Standard Chartered Bank and Stephenson Harwood LLP. 

'Thrive' has trained over 1200 delegates all over the world and launched a digital gender equality platform featuring specialist expertise and training videos.

Accepting her regional award, she said:

"I would like to say a huge thank you to everyone who has supported me through this process of setting up Thrive.

"This award is a huge encouragement for our future."

Mickel Alexander is the founder of 'The 2 Cents Movement', one of the largest youth-led non-profits in Trinidad and Tobago.

The non-profit reaches 20,000-30,000 young people annually across the Caribbean, meeting their educational and supportive needs of through arts-based activities like poetry and spoken word.

It has gone on to advocate against the radicalisation of young Caribbeans at risk of joining overseas conflicts.

Receiving his regional award, he said:

"I am eternally grateful for the opportunity to receive this award.

"This moment is so amazing for me, I have been thinking so much about what this award means… through this experience I have been meeting so many wonderful people."

"I know this is just the start of the journey and I'm excited about what is to come."

Thompson Auri is an Information Specialist & Airstrip Surveyor for the Rural Airstrip Agency in Papua New Guinea.

His work has helped see over 20 airstrips restored, giving thousands of people in rural communities access to better healthcare, education, income generation and a better standard of living.

Dedicating his regional award to the organisation and the people of PNG, he said:

"I am overwhelmed that I have been selected… I am more than happy."

Young leadership

The awards were hosted virtually for the second time due to the pandemic. The ceremony was live streamed on Facebook and YouTube.

The event was hosted by musician, author and broadcaster Yolanda Brown and included incredible musical performances from the talented Jamaican boyband 8 Band; Nigerian popstar Yemi Alade; and Tongan musician Emily Muli.

She wrote and performed an emotional song dedicated to Tonga in the wake of the recent disaster in January.

With a number of media partnerships created especially for the event, it will also be broadcast on television networks across the Commonwealth. 

The ceremony will be shown in Africa on the South Africa Broadcasting Corporation; in the Caribbean and the Pacific on terrestrial TV stations; and in the UK on London Live (a TV station carried on Sky and cable TV).

For nearly two decades, the awards have brought the innovative, scalable, and replicable projects of young people to the forefront of global leadership and have given local projects international attention.