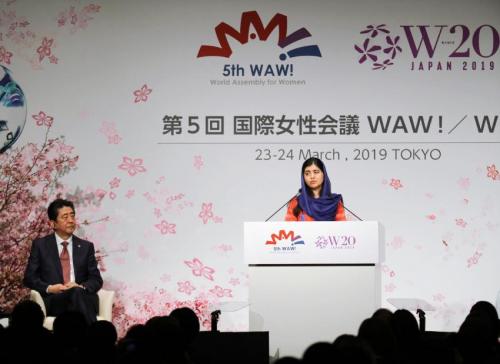 https://www.mofa.go.jp/fp/hr_ha/page22e_000859.html
The World Assembly for Women (WAW!) is Japan's initiative aiming at realizing "the society where women shine". This year, the WAW! marks the fifth year since its commencement.
We'll make this year's WAW! a special one. As Japan is serving as Presidency of G20 this year, it will be held concurrently with W20, one of the engagement groups of G20.
We will welcome Ms. Malala Yousafzai, the Nobel Peace Prize laureate for 2014, as a keynote speaker of this special WAW!/W20. Ms.Malala has appealed for the importance of education for girls. Though being targeted by an anti-government organization, with the support of her family members and others, she has never given up advocating that "one book and one pen can change the world". This is a powerful message. Each person opens up their potentials with his/her own will. That serves as the impetus to change the world.
To commemorate the fifth year of the WAW!, we will invite female foreign ministers from all over the world for the first time and youth representatives will participate in each session to convey their messages of the future generation. Distinguished guests from the world and the international organizations including H.E. Ms. Michelle Bachelet Jeria, UN High Commissioner for Human Rights, will also be speaking at the conference.
The grand theme for this year's WAW! is "WAW! for Diversity". Diversity is recognized and everyone can fully use his/her ability. That's the new future we are aiming for. Each and every one of you are the player for such a new future.
Let's collect the wisdom from everyone regardless of sex or age, and draw a dream for a better society. Please come and listen to live messages from Ms.Malala and other wonderful guests.
Let's change the world from WAW! and W20, and let's work together to materialize our vision. To realize "the world where women shine"!
https://japantoday.com/category/politics/japan-to-support-education-for-...
TOKYO
Prime Minister Shinzo Abe told an international women's conference in Tokyo on Saturday that Japan will support developing countries in providing "high-quality" education to 4 million women by 2020.
Abe said improving access to education is important for sustainable economic development and that he will propose accelerated efforts to provide better education opportunities to women at the meeting of the Group of 20 major countries which Japan will host in June.
"As the G-20 president, I would like to confirm with other G-20 leaders our determination to create a world where all can have access to at least 12 years of high-quality education," he told the meeting of Women20, a G-20 engagement group which makes policy recommendations to the major economies.
Nobel Peace Prize laureate Malala Yousafzai also attended the conference and called for investments in women's education.