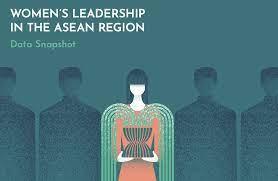 https://asiapacific.unwomen.org/en/digital-library/publications/2022/10/...
They are also key to fostering a more sustainable and inclusive region. Providing women with equal access to decision-making power and leadership not only supports their well-being, but also enables their contribution towards regional progress and inclusiveness.
Data, however, shows that substantial progress is needed to empower a new generation of ASEAN women leaders. This factsheet explores, through available official statistics, the various leadership roles that women play in the ASEAN region, and sheds light on areas where improvement is needed.
The report showed that across the 10 ASEAN countries as a group:
The share of women managers rose only 2 percentage points in 20 years (from 39 per cent in 2000 to 41 per cent in 2020), while the share in middle and senior management stands at a much lower 26 per cent.
In political governance, women hold 22 per cent of parliament seats, but women ministers are often relegated to leading committees on gender equality and women's affairs.
Even though women make up 67 per cent of health-care workers, the front-line responders to the pandemic, only 11 per cent of chief executive officers in the region's biggest hospitals are women, and ASEAN's ministers of health are all men, except for Viet Nam's.
Women led only 6 per cent of environment and related ministries in 2020. Further opportunities to engage in environmental decision-making could enable them to promote environmental conservation, including indigenous women, who are typically holders of traditional ecological knowledge.
View online/download