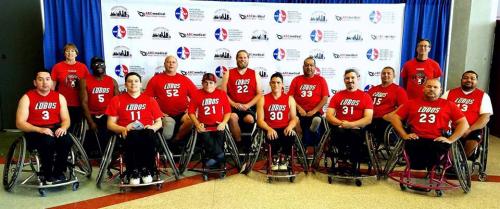 March in the United States is known as "March Madness".  This is the culmination of the college basketball season when the top 64 teams in both the men's and women's divisions compete for a national championship.  It seemed that basketball was on TV 24 hours/day; at least my housemate Mark seemed to never be sleeping.  Fans further engage by playing "brackets" resulting from a faux science called "bracketology".  Having not been in the US during a March since 2009 I got caught up in the madness, although I didn't go so far as to play a bracket.  Both the teams, UCONN Women and UCLA Men, that I was rooting for lost, but more importantly I wanted to watch some good basketball.  After all many of these players would be turning professional in the NBA and WNBA. 
While most of America was focused on March Madness, there was also another "madness" happening in Louisville, Kentucky through the National Wheelchair Basketball Association (NWBA) final tournament.  The NWBA consists of a number of adult divisions DI, DII, DIII and two junior divisions, all of which were on display among the 90+ teams (190 games, 16 courts) that participated in Louisville.  (The college and women's divisions had completed their finals earlier in the month). 
Unlike its NBA counterpart, the NWBA is a non-profit. Many of the DI/DII NWBA games included Paralympians, including the best player in the world Patrick Anderson from the New York Rolling Knicks.  Also unlike the NBA, all wheelchair basketball players are classified based on their functional mobility somewhat leveling the playing field and making for great games.  (In the final DIII game one guy scored  54 points leading his team to the championship). 
I attended Nationals with my friend and colleague Pete Hughes, the head coach of the University of Arizona Women's Wheelchair Basketball team.  My role was to help recruit more players but also to assist in Operation Rebound.  This is the Challenged Athletes Foundation's  (CAF's) program which strengthens the mental and physical well-being of veterans, military personnel and first responders with permanent physical injuries by providing them opportunities to use sports and fitness to re-integrate into our communities and by empowering them through sports.  This is very much a partnership with the NWBA and a number of other clinics will be held throughout the US. The 20+ athletes were given a crash course in wheelchair basketball. 
It was an unforgettable experience to meet so many people connected with the world of wheelchair basketball from small children to adults.   I also met my friend Jess Markt who works for the International Red Cross and has set up wheelchair basketball programs all over the world.  I first met Jess in New Delhi in March 2014 when we were both helping to improve wheelchair basketball in India.  This was the first time that I met Jess since India. 
But the biggest thrill was being able to co-coach the Tucson Lobos, which is a DIII team that I had worked with during the year.  The story of the Lobos is like a fairy tale.  The team was ranked 18th throughout the US and since only the top 16 teams are invited to participate in Nationals the Lobos were recently holding their end of the year celebration.  However, as the team was leaving their celebration, the Team Manager, Mia Hansen, was called by Buddy Barnes the Adult League Commissioner.  Buddy told Mia that two teams had dropped out and the Lobos were invited.  Through some very quick fundraising 12 players were able to go to Louisville.
The team finished 2-2 at the tournament which was great for this group that had a somewhat difficult start to its year.  Most importantly the players had bonded both on and off the court, becoming a family in which there is a great deal of caring for one another.
Whenever I'm participating in wheelchair basketball I always think about Nepal and India and how to further promote sports for persons with disabilities.  I know that the NGO ENGAGE is coordinating the second edition of the ENGAGE Empowering League and that Raj Kumar, the best wheelchair basketball coach in Nepal, is attending a clinic with a number of female wheelchair basketball players in Thailand, sponsored by the IWBF  Both of these events can only serve to move Nepal forward in terms of wheelchair basketball.  But there also must be a lot more collaboration amongst other NGOs, the private sector and government.
On April 6 the world celebrated The International Day of Sport for Development and Peace (IDSDP) which is an annual celebration of the power of sport to drive social change, community development and to foster peace and understanding.
I've experienced and been part of the power of sports in its promotion of tolerance and respect and the contributions it makes to the empowerment of women and of young people, individuals and communities as well as to health, education and social inclusion objectives. I feel even more strongly about this given my various life experiences.
I know that Nepal has tremendous possibilities vis-à-vis sports.  This is not only about having resources but is also about how much Nepalis and those wanting to help can dream.  This is about having the persistence to collaborate and make a difference. I know from experience that anything is possible in Nepal.