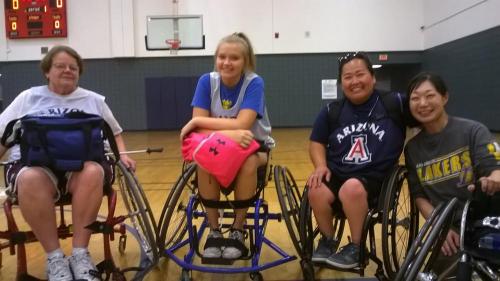 Tucson, Arizona It's been one month since I last wrote an article for Perspectives.  I continue to have a range of (mostly positive) experiences living in the US.  My partner Yasuyo came here with me from Japan to spend three months in order to experience what living in the US is all about.  It's interesting for me to see things through her eyes and experiences as she navigates a "foreign" culture.  Her English improves on a daily basis as she is taking multiple free courses at public libraries from an NGO-Literacy Connects and the University of Arizona-Center for English as a Second Language.  She has met a number of Nepalis who I work with through my job at Iskashitaa Refugee Network, which is very comforting,  enabling Yasuyo to keep up her Nepali language skills.  She has also engaged with others from Japan who are living in Tucson, but also people from a number of African countries, those who were once refugees now calling the US their home.  I see the struggles that anyone moving to another country might experience, but I also see the ease in which someone can "slide" into living here. 
A lot of this has to do with how the US has traditionally been a welcoming, multi-cultural country.  We recently attended a women's professional basketball game in Phoenix.  While we were waiting to cheer on the players I told Yasuyo to look across the aisle at the range of people's skin tones and I remarked how we were all Americans, something which is very different from  more homogenous countries such as Japan and Nepal.  Diversity is what I appreciate most about living in the US. 
Last weekend I worked at a wheelchair basketball camp at the University of Arizona.  The participants included teenagers, men and women who came mostly from Arizona but also other US states.  Some of the participants had been born with a physical disability but many were injured in various accidents, confining them to a wheelchair for mobility. There were also able-bodied participants.  The community team that I'm involved with, the Tucson Lobos, sent a number of their players.  Women and men who play for the University of Arizona wheelchair basketball teams were coaches, directed by the head coaches for their respective teams. Jenn Poist, a former Paralympian on the 2016 gold medal US women's basketball team was also one of the coaches.  She brought her gold medal to show the participants which for many was a highlight of the camp. 
This camp and many others that take place during the summer throughout the US creates opportunities to participate for persons with disabilities no matter what their athletic ability. 
As I've written in previous articles, there is a difference between focused resources for persons with disability in the US and Nepal.  I don't know of anything in Nepal comparable to the Disability Resources Center (DRC) at the University of Arizona.  The DRC mission is, "To create inclusive and sustainable learning and working environments and facilitate access, discourse, and involvement through innovative services and programs, leadership, and collaboration". There are also DRC's on other college campuses throughout the US. 
The major camp learning for me is that where there is will, there is a way.  If a person with disability wants to attend a camp for learning wheelchair basketball skills at a major university opportunities exist.  If a person without a physical disability, my partner Yasuyo, wants to live in the US and learn English and for that matter wheelchair basketball, opportunities exist. 
While living in Nepal I would often brainstorm with my friend Simone Galimberti, ENGAGE co-founder about the possibilities for creating opportunities for persons with disabilities in Nepal.  We always had and have a variety of ideas but things seemed to always come down to resources.  We both understand the power of sports and how participating can change people's lives on a number of levels.  I know that because there was will on the part of ENGAGE to start a wheelchair basketball league in Nepal a way was found. 
I can imagine a time when sports camps for people with disability are offered throughout Nepal.  We all just have to keep pushing to create further inclusion and unlimited opportunities for all no matter who they are.