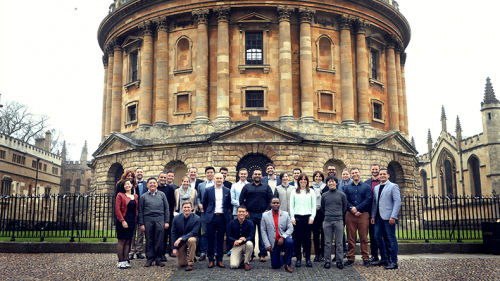 The Competition
If you run an innovative business that is creating positive change in the world, we want to hear from you. Successful applicants will have a chance to pitch for a share of The Venture's $1Million fund and have access to the tools and mentorship to accelerate their growth. The
Meet the 27 finalists that will compete for $1M in funds
INTERNATIONAL
From over 2,500 applications, today The Venture unveiled the 27 extraordinary startups from around the world that will compete for a share of the competition's $1Million fund.
The Venture's global search to discover and reward the world's most promising social entrepreneurs was whittled down to 27 exceptional startups on Monday 14th March.
Now in its second year, The Venture received over 2,500 applications from startups across six continents tackling a range of social and environmental issues with scalable and sustainable business solutions.
One finalist will represent each of the 27 participating countries at The Venture Final in New York City in July, where they'll have just five minutes to impress The Venture judging panel with their pitch to win funding.
Each business showcases the creativity and ingenuity within the startup community and the increasing passion of new business leaders to create a positive change in the world. Finalists range from Onicio Leal, the founder of Epitrack (Brazil), who has created a faster way to identify and track disease outbreaks through a digital detection platform, based on crowdsourcing; to Kenny Ewan, the founder of WeFarm (UK) who has developed a seamless peer-to-peer knowledge-sharing platform for the 500 million small-scale farmers around the world with no internet access.
In preparation for The Venture Final, the 27 finalists have travelled to Oxford to take part in a transformational Accelerator Week programme created by the Skoll Centre for Social Entrepreneurship, embedded within the world-renowned Saïd Business School at the University of Oxford. During this intensive five days of learning, finalists will be receiving leadership coaching and support in preparation for the high stakes pitch in July. The week will involve expert trainers and inspirational mentors recruited by the Skoll Centre.
Daniela Papi-Thornton, Deputy Director of the Skoll Centre, said, "We're thrilled to welcome the 27 finalists of The Venture to Oxford, where we hope to provide them with both an unforgettable learning experience, and an invaluable platform on which to build their businesses.
"We will be offering workshops on a range of topics, from understanding how to measure social impact to methods and best practices for scaling, taught by some of the best minds in social impact education. We are impressed with the diversity of the finalist pool, and are excited to find out more about their businesses."
From the 9th May to the 13th June, the public will be able to have their say on their favourite finalist. Over the course of five weeks, the public's vote will determine how the first $250,000 in funding is split among the finalists. The remaining $750,000 in funding will be awarded at The Venture Final in July in New York City, after a high stakes pitch in front of The Venture judges.
https://www.theventure.com/global/en/finalists