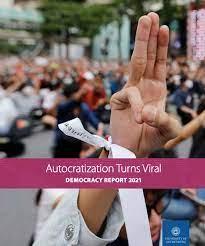 Web site: https://www.v-dem.net/en/
Main Findings:
The global decline during the past 10 years is steep and continues in 2020, especially in the Asia-Pacific region, Central Asia, Eastern Europe, and Latin America.
The level of democracy enjoyed by the average global citizen in 2020 is down to levels last found around 1990.
Electoral autocracy remains the most common regime type. Together with closed autocracies they number 87 states, home to 68% of the world population.
The world's largest democracy turned into an electoral autocracy: India with 1.37 billion citizens.
Liberal democracies diminished over the past decade from 41 countries to 32, with a population share of only 14%.
V-Dem Institute
The V-Dem Institute is an independent research institute and the Headquarters of the project based at the Department of Political Science, University of Gothenburg, Sweden. The Institute was founded by Professor Staffan I. Lindberg in 2014.
The V-Dem Institute is in charge of most operations relating to data collection and the V-Dem dataset, but is also becoming increasingly active on the policy arena. The Institute is regularly hosting prominent visiting researchers, among these are the V-Dem Regional Managers, Project Managers, and other internationally-recognized scholars. During their stay, they hold public lectures and are able to meet and work with the staff in the Department of Political Science at the University of Gothenburg. The seminars cover topics such as democratization in different parts of the world, effects of democratization, electoral violence, persistence of inequality in new democracies etc. 
Each year the V-Dem Institue hosts a Policy Conference which is a platform where users and practitioners can meet and where the V-Dem project's goals, research and findings are presented to a broader public. During the conference a broad range of policy makers, practitioners, as well as representatives of international governmental and non-governmental organizations are present.
V-Dem Institute regularly produces a range of publications. The V-Dem Country Briefs outline the most important political trends in a specific country. The Policy Briefs summarize policy-relevant research findings on topics like accountability, legislative strengthening, and executive corruption. V-Dem Institute is producing a working paper series which is intended to make the results of V-Dem analysis and research available to the public, free of charge. The Working Papers are available here. 
Below you find an organizational overview where you can learn more about the activities performed at the Institute.