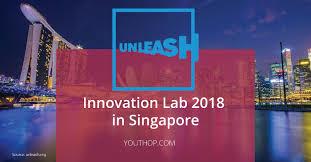 Link 1 https://unleash.org/
DECEMBER 14TH, 2017
Prime Minister Lee Hsien Loong announces Singapore as host of UNLEASH Innovation Lab in 2018
During his visit to Singapore, Danish Prime Minister Lars Løkke Rasmussen handed over UNLEASH to Singaporean Prime Minister Lee Hsien Loong. UNLEASH is a global innovation lab, bringing together 1,000 carefully selected young talents from across the world, to collaborate on ideas and solutions for the UN Sustainable Development Goals (SDGs).
"Denmark kick-started this great initiative, and there is no better partner than Singapore to take over. The global SDGs carry the ambition to bring the world we live in closer to the world in which we wish to live. Singapore is known for its foresight, drive, and ability to take action. By passing on the host country torch to Singapore, I am sure that UNLEASH will take yet another important step forward," said Danish Prime Minister Lars Løkke Rasmussen, who was on his first official visit to Singapore.
Prime Minister Lee Hsien Loong is delighted that Singapore will be the next host. "We each have a valuable contribution to make to sustainable development. We must fulfill the goals of the 2030 Sustainable Development Agenda, for the next generation to have a brighter and more resilient future. I am happy that Singapore's private sector will be hosting UNLEASH 2018, and doing their part for the Sustainable Development Agenda. This gathering of young, creative and innovative minds will harness the power of human ingenuity, to create imaginative solutions that achieve the SDGs," says Prime Minister Lee Hsien Loong.
The UNLEASH program will integrate Singaporean business strongholds, and local ways of living, thinking, and working: "Singapore embodies UNLEASH's values of innovation, multi-culturalism, and cross-sector partnerships. Singapore has been quick to adopt new technologies and has been noted for its sustainable urban planning, as well as being the greenest metropolis in Asia, making it a perfect location for UNLEASH 2018" says Flemming Besenbacher, chairman of UNLEASH, Carlsberg Group, and the Carlsberg Foundation.
UNLEASH 2018 will be a reality due to support from the private sector in Singapore. One of the founding partners for 2018 is DBS Bank. "At DBS, we are committed to shaping positive change.  This includes contributing towards a better future, such as by championing sustainable development and social entrepreneurship. We're excited about UNLEASH – its ambitious undertaking, bringing together creative young minds passionate about the future, will no doubt spur fresh perspectives and thinking that will further advance the SDGs," says Sim S. Lim, Country Head for DBS Singapore.
UNLEASH has also partnered with Temasek and will held alongside the Ecosperity Conference on June 5. "We are pleased to welcome UNLEASH as a partner in conjunction with our Ecosperity Conference. Ecosperity brings together CEOs, innovators and thought leaders globally to discuss the latest issues on sustainable growth. We look forward to the many innovative solutions arising from UNLEASH which will bring us a step closer in translating the SDGs into reality," says Robin Hu, Head of Sustainability & Stewardship Group at Temasek.
Deloitte was a partner in the first UNLEASH and will continue its commitment in 2018. Deloitte's Nordic CEO, Anders Dons, stated "It is a great honor for Deloitte to continue as lead innovation partner and help bring UNLEASH to Singapore. Deloitte will again gather a global team of facilitators to help the talents advance their ideas. To create an impact the world needs to rethink how we do business and leverage the power of innovation – this is exactly what UNLEASH is about and why we are proud to contribute."
During the inaugural UNLEASH in Denmark, 1,000 talents from 129 countries worked on solutions within themes relating to the SDGs. Over the course of nine days, 197 solutions were created and are now being supported by the UNLEASH ecosystem of investors, experts, mentors and more than 200 partner organizations from all over the world. From May 30-June 6, 2018, another 1,000 talents will work on new themes and new challenges. "Just like Denmark influenced the structure and mindset of UNLEASH in 2017, Singapore will inspire new kinds of innovation, new insights, and influence how the talents will work on creating scalable solutions," says director of UNLEASH and chairman of Dalberg, Henrik Skovby.
The execution partners are the Carlsberg Foundation, Dalberg, Deloitte, and UNDP.
Applications are open from January 15 – February 15, 2018.
PREVIOUS BLOG POSTS:
Winners of the seven SDG themes have been found
AUGUST 24TH, 2017
During Dragons' Den the winners of the seven UNLEASH themes were found. Find more information about the winners here: Education & ICT Energy Health Food Sustainable Consumption & Production Urban Sustainability Water
Winners of Health
AUGUST 24TH, 2017
GOLD WINNER – Block Fakes Team 19: Akshay Navaladi, Adebisi Adenipekun and Desmond Nji Atanga Solution: 120,000 children die due to counterfeit antimalarial drugs in Africa each year. In Nigeria alone, over 70% of all drugs sold annually are counterfeit. Existing solutions to tackle this problem have proven to be expensive and inadequate. Hence, Block Fakes propose […]
Winners of Sustainable Consumption & Production
AUGUST 24TH, 2017
GOLD WINNER – SmartWrapR Team 13: Lu Yu, Morgan Law, Emelie Lindahl, Ryoko Suzuki, John Oyewole and Kevin Lee Solution: Shrink wrap is one of the largest hidden pollutants in the world. In the United States, there are over 2 billion pallets which causes 1.0 billion pounds of petroleum waste and of which 95% is expected […]
Winners of Water
AUGUST 24TH, 2017
GOLD WINNER – UNLEAK Team 16: Emmanuel Marfo, Jon Kornik, Meseret Dawit Teweldebrihan, Priyank Hirani, Yael Zvulunov, and Yajun Wang Solution: Leaks inside homes lose enough water to serve 600 million people each day. UNLEAK will fix this in water stressed cities by offering free leak detection and cheap repairs to all. Using a method to […]
Winners of Urban Sustainability
AUGUST 24TH, 2017
GOLD WINNER – Demolition 4 Design Team 17: Clare McCracken, Gitte Gylling Hammershøj Olesen, Kunmi Odufuye, Nicholas Ransome, and Zoé Bezpalko Solution: The Demolition 4 Design (D4D) platform disrupts the ecosystem of the built environment by connecting previously disconnected professionals, increasing knowledge of sustainable solutions and enabling value creation by diverting landfill waste into new […]
Winners of Food
AUGUST 24TH, 2017
GOLD WINNER – Doti Gold Team 15: Benjamin Moore, Anja Rabezanahary, Eric Nwoko, Courage Saba, and Blessing Mene Edward Odgers Solution: Doti Gold is a for-profit organization that transforms food waste to gold (animal feed and fertiliser) using the Black Soldier Flies. Doti Gold will produce more affordable inputs mainly proteins for fish and bio fertiliser for […]
Winners of Energy
AUGUST 24TH, 2017
GOLD WINNER – Earthmark Team 21: Spencer Jay Horne, T. Adil Chowdhury and Anders Brandt Bangsgaard Solution: Product manufacturers will not use sustainable practices until demanded by consumers, but consumers have no easy way to make the best choices. The Earthmark app allows consumers to easily identify the most sustainable choices within product categories, spurring green […]
Winners of Education & ICT
AUGUST 24TH, 2017
GOLD WINNER – HOD – Hear-oes on Demand Team 18: Silvia Muturi, Ryan Scott, Rick Martin, Nela Sladojevic, Joannes Paulus Yimbesalu, and Madhvi Aggarwal Solution: There is over 1.5 million deaf people in Kenya. The gap between the availability of interpreters and deaf individuals is 1:7500. Institutions which are mandated by the government to provide […]
The winners of UNLEASH LAB 2017 have been found
AUGUST 22ND, 2017
Although UNLEASH LAB 2017 is over, we are already looking to the future to help all the great solutions become a reality. Congratulations to all our talents for all their hard work. Here are the winners of the five special awards: 1. Most impact potential SmartWrapR Theme: Sustainable Production and Consumption Team 13: Lu Yu, […]
Founder & CEO og Khan Academy, Salman "Sal" Khan will be coming to UNLEASH
AUGUST 15TH, 2017
Salman Khan will be joining UNLEASH in Aarhus. Salman "Sal" Khan is the founder of Khan Academy, a nonprofit with a mission of providing a free, world-class education for anyone, anywhere. Khan Academy started as a passion project. Sal's cousin was struggling with math. He tutored her remotely and posted educational videos on YouTube. So […]
Olafur Eliasson is coming to UNLEASH and shares a message with our talents!
AUGUST 15TH, 2017
The Prime Minister of Denmark, Lars Løkke Rasmussen will give a speech at UNLEASH
AUGUST 4TH, 2017
The Danish Prime Minister, Lars Løkke Rasmussen, will give a speech during the "UNLEASH Awards Show- Presented by BESTSELLER". Lars Løkke Rasmussen has served as Prime Minister of Denmark from 2009 to 2011 and again since June 2015. He has been a member of the Danish Parliament since 1994 and Chairman of the Danish Liberal […]
Ashton Kutcher is attending UNLEASH
AUGUST 2ND, 2017
We are happy to announce that actor, philanthropist, entrepreneur, investor and producer, Ashton Kutcher will be coming to UNLEASH on August 21. Ashton Kutcher has been named one of TIME magazine's "100 Most Influential People in the World," as well as being honored by Vanity Fair 's New Establishment List, which identifies the top 50 […]
Her Royal Highness Crown Princess Mary of Denmark will be coming to UNLEASH
AUGUST 2ND, 2017
  Her Royal Highness Crown Princess Mary of Denmark will be coming to Aarhus to celebrate the SDG Talents. Her Royal Highness Crown Princess Mary is a passionate advocate for health, gender equality, and the empowerment of women and girls. She is committed to creating awareness, respect and acceptance of women and girls' sexual and […]
Dee Poon of Esquel Group is coming to UNLEASH
AUGUST 1ST, 2017
  On the final day of UNLEASH, we are happy to have Dee Poon speak on sustainable production and comsumption at Musikhuset, Aarhus. Dee Poon is the Managing Director of Brands and Distribution of Esquel Group, a global leading textile and apparel manufacturer with operations located worldwide. In 2014, Dee was selected as a Young […]
Welcome by Chairman, Flemming Besenbacher
AUGUST 1ST, 2017
In just 12 days, UNLEASH will kick off in Denmark. We are so excited to welcome our 1,000 global top talents from more 129 countries. We have tech-entrepreneurs, leading academics, young professionals, and development program officers. All talents have proved a passion for positive change. We have gathered an incredibly diverse group of young and […]