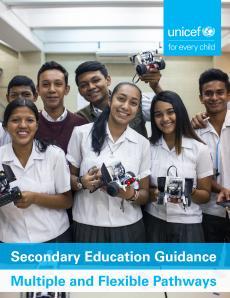 Highlights
https://www.unicef.org/reports/secondary-education-guidance-multiple-fle...
https://www.unicef.org/media/84246/file/Secondary-education-guidance-mul...
There are nearly 200 million lower and upper secondary school-age adolescent girls and boys out of school globally and if current trends continue, another 825 million children will not acquire basic secondary-level skills by 2030. Global momentum to achieve universal primary education has placed increased demands on secondary education systems to serve more students from a wider range of backgrounds, and to do so more effectively and inclusively. Many of the most marginalized adolescents in lower-income countries enrolled in school have fallen years behind their peers. 
This global guidance on secondary education lays out recommendations for UNICEF's work at the country level, supporting governments in guaranteeing the right to education of marginalized adolescents.
This guidance offers differentiated recommendations for countries at various stages of the progressive universalization of lower and upper secondary education. Based on the diagnostic, the guidance provides programming recommendations and illustrative case studies, as well as costing and financing alternatives, monitoring and evaluation tools, and insights on advocacy and partnerships.