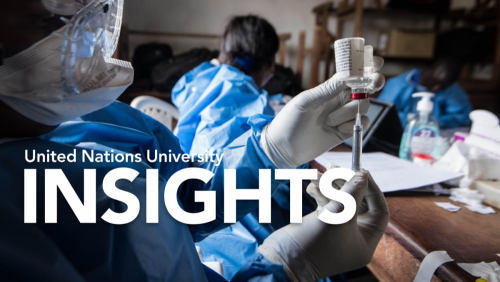 https://mailchi.mp/unu.edu/march-2021
A young Afghan man's story highlights the disjunctures in global refugee systems and how the UN can help facilitate dialogue and multilateral action to protect refugee and migrant children.
Welcome to the March edition of the INSIGHTS newsletter.
From a look at how the UN can help improve systems to protect unaccompanied refugee and migrant children, to commentary from UNU researchers on the state of gender equality, and recommendations for building more disaster-resilient communities, this month's edition brings you the latest thought pieces, news, publications, and job postings from across UNU's global system.
Miss an edition of INSIGHTS? Visit the archive.
Ghana's Lockdown Hit Vulnerable Workers Hard: What Needs to Happen Next Time
Interviews with more than 600 workers in Ghana reveal that future virus containment policies will need to be coupled with protective measures that prevent the most vulnerable workers from being left behind.
Diaspora and Knowledge Transfer — The Evidence
Two UNU migration experts reflect on the successes and challenges of the IOM Connecting Diaspora for Development programme, and lessons for stimulating lasting knowledge connections.
In the Doom of Hope: Local Governments as Key Agents to Respond to the Pandemic
Local governments play a critical role as frontline responders, not only in addressing immediate needs and risks, but also in mitigating the future effects of the pandemic across various sectors. 
Confinement Centres in Malaysia: The Challenges of Providing the Best Care for Mothers and Newborns
Ongoing UNU research underscores the need for a regulatory framework on perinatal confinement practices in Malaysia to ensure the health and well-being of mothers, newborns, and their families.
UNU Study on Saxony NGOs Launched at State Cabinet Press Conference
UNU's institute in Dresden, Germany released the results of a study commissioned by the Saxon State Chancellery, which highlights roughly 130 non-government organisations working on development cooperation.
UNU Celebrates International Women's Day
This month, researchers from across the UNU system took to social media to call attention to women's rights and champion global gender equality.
FEATURED PUBLICATIONS
The UN Security Council and Transitional Justice
Through five country case studies, this report looks at the conditions under which support from the Security Council can positively impact transitional justice efforts on the ground, and outlines recommendations for the Security Council, the UN Secretariat, and justice advocates.   
Building Local Resilience Platforms for Disaster Risk Reduction
This policy brief offers recommendations for policymakers and stakeholders in creating multi-stakeholder resilience platforms at the local level where challenges such as low governance capacity, lack of data and resources, and lack of community awareness abound.
ACADEMIC & LEARNING OPPORTUNITIES
Photo and Video Storytelling Competition
With cash prizes of up to 2,000 euros, this competition invites photographers and videographers to submit stories that showcase action for sustainable development in areas such as agriculture, climate change, and biodiversity.
UNU-WIDER Development Conference
Papers on the effects of the COVID-19 pandemic across the Global South are accepted until 15 April for presentation at the WIDER Development Conference, to be held online from 6–8 September 2021.
Academic Membership Programme 2022
Apply by 19 April for this programme offering senior biotechnology researchers the opportunity to contribute to high-level capacity building activities in Latin America and the Caribbean.  
Fellow Membership Programme 2022
Apply by 19 April for this programme offering young biotechnology researchers the opportunity to contribute to short-term research projects in Latin America and the Caribbean.
Call for Submissions: PhD Blog Series
Proposals for articles on regionalism and regional governance from academics and researchers across the globe are now being accepted on a rolling basis. 
Work With Us!
There are currently 17 employment opportunities with UNU. Positions in Tokyo, Dresden, Helsinki, Namibia, and other locations are accepting applications for research, communications, administrative, and technical roles.