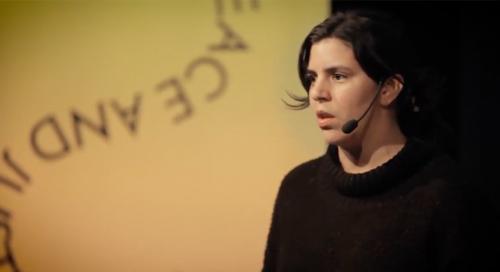 https://www.ohchr.org/EN/NewsEvents/Pages/catalina-salazar.aspx
"When I was in high school, I was really angry about the inequity in Chile," said Catalina Salazar, a 33-year-old human rights activist from Santiago, Chile. "I always wanted to challenge these inequalities and fight for change."
She turned her anger into activism by raising awareness of the human rights situation in Chile through her work as the Regional Coordinator in the Americas of the United Network of Young Peacebuilders (UNOY Peacebuilders).
 "The violence rate is really high," she said. "Gender violence is alarming, and youth do not have access to justice. It is important for the world to know what is going on."
Since 2019, Salazar has been working on research, advocacy, and implementing projects on the Agenda for Youth, Peace and Security and the implementation and advancement of Resolution 2250, adopted by the United Nations Security Council. Resolution 2250 is a landmark resolution urging Member States to give youth a greater voice in decision-making at the local, national, regional and international levels.
Finding her calling and empowering others
At university, Salazar studied political science and advocated for marginalized groups "who didn't have the opportunity to go to school without the burden of debt or any resources."
She also discovered her passion for hip-hop music when she met a group of people who taught her how to rap.  
"I was trying to make rhymes and I found it really fun," she said. "I felt emotional about it, too. I felt free."
Salazar looked for ways she could merge her passion for hip-hop and working with youth. She secured a position as Coordinator of International Affairs for Social Hip-Hop, a nonprofit organization that uses a hip-hop methodology and applies it to helping students and prisoners with their communication skills and building self-worth.
According to Salazar, the Social Hip-Hop program has made a positive transformation when prisoners leave prison and enter society. Many of them have found the program so helpful they return as facilitators, she added.
In 2020, Salazar worked with the creators of Social Hip-Hop on the book, Hip-Hop 360: Towards an approach to work with youth and peacebuilding, which was financed by UNOY Peacebuilders' micro funds. The book has been distributed to schools and prisons throughout Chile and provides creative tools for students and prisoners to express themselves and think about a life free of violence, she added.
She said there is social movement in her country, and she sees that young people are behind this push for change. Salazar said that it starts with empowering people to change their lives and communities.
"Hip-hop is a transformational tool," she said. "Hip-hop saves people. I can see their lives changing. This is why I encourage people to innovate and use the arts as a peace-building tool."
29 October 2021