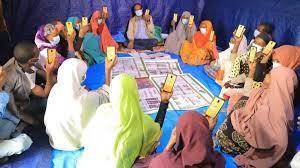 While COVID-19 has impacted every economy in the Asia-Pacific region, the economic fallout for micro, small and medium enterprises (MSMEs) has been particularly devastating. It has led to declines in income and employment, and increased inequality and poverty rates. ESCAP estimates that the pandemic could push 150 million people into poverty in 2021, resulting in a significant regression in the progress made on the Sustainable Development Goals.
Women entrepreneurs have been disproportionately impacted by the pandemic. Prior to the pandemic, women entrepreneurs faced challenges relating to informality, ability to meet collateral requirements, small cash holdings with limited record keeping, and limited digital and financial literacy, all of which impacted their ability to access formal financial services. Since the pandemic, these challenges have been exacerbated and compounded with additional burdens such as added household care responsibilities.
"The pandemic has exposed the continuing inequalities in our region and laid bare the need to build back better with inclusivity, resilience and sustainability," said ESCAP Deputy Executive Secretary Kaveh Zahedi. "To achieve this, we must in particular bridge the digital and financial divides that women MSMEs face. ESCAP is proud to be collaborating with UNCDF, Visa, the Dutch Development Bank FMO and our financial partner the Government of Canada, to support such digital technology and digital finance solutions specifically for women entrepreneurs who have been disproportionately impacted by the pandemic."
"Over its 50-year existence, FMO has worked to empower entrepreneurs across and within emerging markets. The current economic crisis has proven to be a tremendous challenge on so many levels, and for so many. We are proud to have partnered with ESCAP, Visa and UNCDF on this deeply needed fund, ensuring that women-led and women-owned enterprises in South-East Asia not only survive but thrive," said Andrew Shaw, Capacity Development Manager of FMO.
To support the economic recovery and digitalization of these enterprises, ESCAP and the United Nations Capital Development Fund (UNCDF) launched the Women Enterprise Recovery Fund earlier this year. The fund seeks to support the development and expansion of digital business models and solutions to alleviate financial and other constraints impacting women enterprises in South and South-East Asia.
Of the 83 applications received, 17 were shortlisted to move to the final round of decision making. Shortlisted applicants were provided mentoring and pitch preparation assistance in order to strengthen their business models for potential funding.
"The last year has been exceptionally difficult at the personal, communal, and economic level for so many people. As we look to the recovery phase, it is critical that the global financial architecture intensify its support to accelerate achievement of the Sustainable Development Goals, specifically in frontier markets," said UNCDF Executive Secretary Preeti Sinha. "The UN Capital Development Fund has a unique role to play in supporting innovative solutions that can support those most at risk of being left behind, notably women-owned and women-led enterprises in last mile markets. Digital transformation is essential to these enterprises' ability to rebound, recover, and become more resilient. We are proud to partner with ESCAP, Visa and FMO through the Women Enterprise Recovery Fund to support the development and expansion of digital solutions that alleviate the constraints suffered by women enterprises affected by the pandemic."
"Visa is committed to helping small and micro businesses thrive, and we believe in the power of women entrepreneurs to drive economies everywhere. In the wake of Covid-19, our focus on empowering and uplifting women is more important than ever as we seek ways to contribute to an equitable economic recovery. Alongside our global commitment to digitally enable 50 million SMBs by the end of 2023, we are privileged to be a partner in the WERF to advance digital solutions for women entrepreneurs in the region," said Nate Low, Senior Director, AP Social Impact, Visa.
The winners of the Women Enterprise Recovery Fund:
Note to editors:
The Women Enterprise Recovery Fund is supported by the Dutch Entrepreneurial Development Bank (FMO), the Government of Canada and Visa. The Fund is jointly implemented by the United Nations Economic and Social Commission for Asia and the Pacific (ESCAP) Catalyzing Women's Entrepreneurship programme in partnership with the United Nations Capital Development Fund (UNCDF), under its 'no-one left behind in the digital era' strategy. The Fund is hosted by UNCDF's Fund Facility Investment mechanism, through the SHIFT in ASEAN programme, which is supported by the Australian Government.