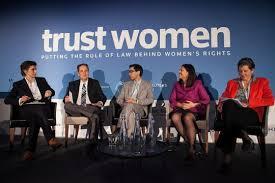 The Conference will be action oriented with the participants pledging some actions "
"Trust Women delegates take action and forge tangible commitments to empower women worldwide and to fight modern-day slavery. At each conference, speakers and delegates propose innovative solutions to address social challenges. We call them actions."
Some of the speakers
Cherie Blair
Lawyer and founder of the Cherie Blair Foundation for Women
Kathy Calvin
President and Chief Executive Officer, United Nations Foundation
Jean Baderschneider
CEO, Global Fund to End Slavery
Mabel van Oranje
Initiator and Chair, Girls Not Brides
DAY 1
How to keep girls in school
How to reach the top: fostering women leaders
Women under extremist rule, from ISIS to Boko Haram
Trust Women Actions
DAY 2
Powerful stories of survival
Using data to fight slavery
Cleaning the supply chain of slave labour
During the conference the following awards will be given:
Trust Women Awards
The Trust Women Awards honour exceptional individuals who have raised awareness and provided real solutions to the challenges faced by women worldwide.
Trust Women Hero Award
The Trust Women Hero Award celebrates an innovator whose bold thinking and high-impact work has helped women defend and advance their rights. Nominations are made by the public: last year, we received 160 outstanding nominations from over 50 countries. Candidates are judged based on their leadership and the innovation, impact and scalability of their work.
VISIT THE WEB SITE OF THE CONFERENCE AT http://www.trustwomenconf.com/?source=hpTrust