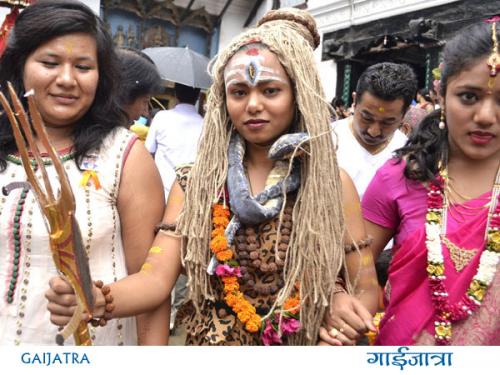 In many cultures people remember their ancestor once in a year and they back to the past, they go to the tomb or place where is buried. But in Gai Jatra in Nepal people can be remember in Festival and in the day of died. In Gai Jatra, people remember to their ancestor or family members to wish to be peaceful soul in rest.
Gai Jatra festival gives us an opportunity to respect and remember died Foreign Tourist in Nepal during earthquake. It brings us from pain to healing from its way of celebrating. It also the best way of remember them, it spreads the messages of peace and harmony. Finally, it promotes the cultural tourism.
During the earthquake time in Nepal many tourists are died and some are lost and yet to be found, they are gone forever. As we are human being, we lost them in the natural calamities.  It was out of control, we could not save their life. At these days we have only the memories of them, they are always in our memory. Tourism in Nepal is the soul of economy, motivation of millions of Nepalese citizen.
The tourism contribution in Nepal is always far above the ground, we Nepalese people always believe the "Athithi Devo Bhava" in Sanskrit respectfully, "Guest is God" in translation. We always praise guests in our practical life even modernization and industrialization destroying the cultural values continuously.
Due to the earthquake happened; Nepal's tourism became paralyze for a season. At this movement many children are lived to be hunger whose parents are totally depended in the tourism sourced activities or died. Many of their pregnant wives reduced the nutrition in daily foods. Many porters, guides and tourism depended people folded their hands and killed their dreams.
Consequently, many organizations founded in Nepal to quality contribution on the tourism. In contradiction, most of them are less professional in hospitality business. They believe to the guest only in alive and have sufficient fund to travel. But, we say, the better idea is to find the traveler and message they carry to other parts of the world. 'Traveler' comes after the humanity; we respect them as human being first.
Public memory is too short, died people will be forgotten very soon. Often, family, friends and beloved are the person who remember them time to time, but we the people who remember them always, we don't wash them out from our mind. Yearly, we remember them.  The natural disaster can be happened anywhere, anytime but we don't forget the humanity. The humanity brings us in a circle of love and peace where we can be happy. 
The tourists died in the calamities cannot be our guest again, but they will always be in our memories. We memorize them days and days, years and years. They are our inspiration, we missed them, we lost them but we never forget them.
YES, come together with us to tribute them 2nd of September 2015 in Bhaktapur on the occasion of Gai Jatra Festival, we are waiting you.
For Direct Feedback : manojgiri100@gmail.com