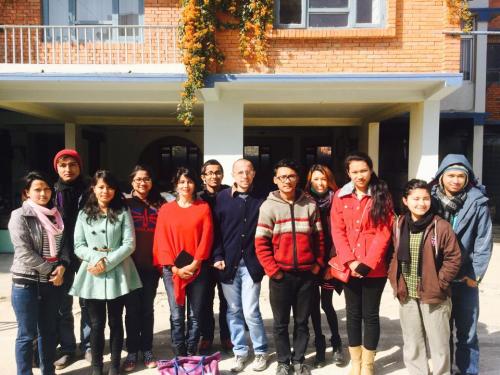 "Dad, I am joining volunteering work." I told. He stared at me and shouted "Are you mad? Do you have any concentration on your study" Then I replied "I want to study abroad and colleges need certificate of extra work. So I am joining ENGAGE for certificate." After listening the word 'certificate' he became cool and told "ok. If it is a matter of certificate then I agree."    
            It was the first day at ENGAGE. A beautiful lady Kusum Thokar, program manager of ENGAGE welcomed us. She then described about ENGAGE. At last she told "we will call you for interview." Then I returned my home.
             Message arrived in my mobile. I was glad to see the notice of interview.  During the time of interview I felt too uncomfortable. That day I realized I can't do face to face conversation. "Why fears arise in my heart" I questioned to myself. At evening, I was just thinking about that situation. Really it touched my heart. Then I soon went to YouTube. I got many suggestions there about how to be confident during a talk. This is the first thing I learned from ENGAGE.
           "Congratulation you have selected for ENGAGE corps member. Now the meeting will be held within next Monday." I saw the message in my mobile. Instead of being happy I was just thinking how I got selected. "My interview was not good" I whispered myself. Anyway I thanked god.
        The very first meeting was on ENGAGE office. I saw many handsome and beautiful faces. Most of them are older than me. They are gossiping with each other but I was quiet. Soon a charming man with cutted hair stood in front of me. He again congratulates us.  The man was Simone Galimberti, cofounder of ENGAGE. Though I was concentrating with his saying, I was also too busy watching new people. Whole the period I stayed quiet because of lack of courage to talk with them. I noticed other people were introducing themselves to new ones asking about their name and education. Soon a feeling came to me about why I was not able to adjust new environment. It was the second situation on ENGAGE that touched my heart. My relative and some friends gave me a good suggestion when I kept these things to them.   Then I moved by hoping to adjust new environment next time.
            For Guiding Hands Corps member, it was announced that training will be provided about guiding visually impaired people. I was also one of them to get training. We all gathered in Nepal Association Blind (NAB). This time I completed my hope without hesitating to introduce myself to new people. The training session was really fun. One of the members of NAB, Indira Ranamagar taught us how to walk with blinds and adjusting with them. . That day evening I slept well because the rope which I want to catch was on my hand. It was a best moment.
          After a week I came to know that I am going to volunteer Miss Bindu Neupane. She was a young lady from NAB. Her education was bachelor in English. I was excited because I am going to pass time with visually impaired person very first time. We simply introduced each other. Then she fed me a cup of tea and magi biscuit. That day we create a relationship of brother and sister. Finally we made a conclusion about helping her in making notes and reading books next week.
       In NAB people live like a family although it is a hostel. I was happy because they accepted me to become a part of that family. The best part of them was caring and love to me. I don't feel hesitate to say that Bindu sis love me more than my own sister. It was like we were a sample of brother and sister for others.
              Days are passing with smooth pace. One day they gathered in 'dhalan' of house. They sat in circle. I was just watching them. All of them were visually impaired. Suddenly one of them sang a song. Next stood up and danced. It was really amazing and fun. They told me to do something. Then I cracked a joke. They laughed with loudest voice. The overall environment was happy. The situation became new for me because I had never laughed with my heart which I did that day. Though I have a family, brothers and sisters, I have no memory of having fun with them. Really that day they taught me how to laugh and become happy. I got a meaning that life is something a part of entertainment.
         A long walk with ENGAGE changed a silent boy to talk. The boy who felt afraid to express the thing now gained a little confidence. Sleeping boy started to walk now. He knows the meaning of family and friends. He care and love everyone.  The fantastic part of him is he live for others.
         I learned many things from 4th batch Guiding Hands members.
| | |
| --- | --- |
| 1. Kusum Thokar | To be a confidence |
| 2.Prayga Agarwal | To remain happy always |
| 3. Ankita Paykurel | To challenge the work |
| 4.Heena Thapa | To be ready for everything |
| 5.Ranjeeta Bista | To be selfless |
| 6.Rakysha Shah | To be passion |
| 7.Sara Rai | To build up English language |
| 8. Sweety Dongol | To smile |
| 9. Sujata Magar | To help other |
| 10. Ujjwal Bhusal | To be honest |
| 11. Nischal Maharjan | To be modern |
| 12.John Maharjan | To be frank |
|   |   |
            The day when I was declared as one of the best crops was a great day for me. I had never achieved such award in my life. I feel proud to say the holder of award not as me but us. It is because everyone had helped me directly or indirectly to achieve that. I want to thanks especially Mr. Simone Galimberti from my heart. He is icon for me.
         At dusk I went to my dad room and told "Dad, we are incorrect." He suddenly asked "on what thing we are incorrect" "Dad volunteering is not only for certificate it is a work of mutualism." I told with clear voice. Moreover, I elaborate him the story about how ENGAGE changed my life. It was almost midnight when my story was completed. I saw his eyes full of tears. He hugged me and told "I am proud of you my son."