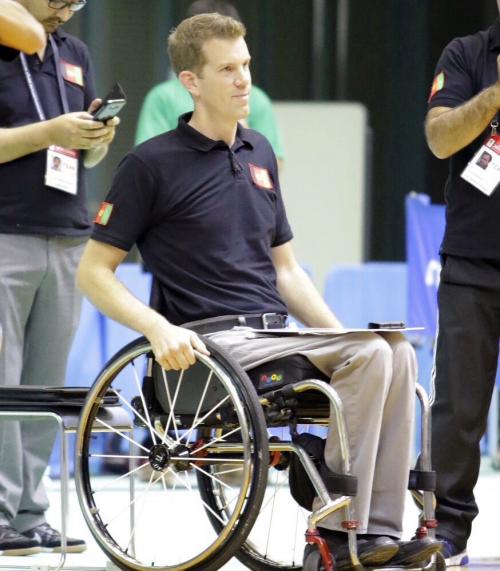 Jess Markt, originally from Oregon, USA, is a wheelchair basketball Coach working with the International Committee of the Red Cross, ICRC as Sport and Inclusion Advisor. Jess was injured following a spinal cord accident at age 19, and then he joined the ICRC in 2011 to bring one of America's best loved-sports, basketball, to wheelchair-bound men and women around the world, including Afghanistan, Cambodia, India, South Sudan and soon in Ethiopia. Find below a personal story written directly by Mark
In the summer of 1996, when I was 19 years old, I was in a car accident that resulted in my becoming a paraplegic. I had been a competitive athlete for most of my life to that point – I was about to return for my second season as a high jumper on my university's athletics team when the accident happened – so adjusting to life in a wheelchair at such a young age meant a major shift in my perspective. I spent the three years following my injury recovering and going back to school to finish my degree, while finding ways to reintegrate myself into the life I knew before the accident. Once I graduated, however, I realized that there was still something missing in my life. That's when I was approached by the local National Wheelchair Basketball Association (NWBA) team in Portland, Oregon, where I was living at the time, and asked to join one of their practices. Wheelchair basketball proved to be the final piece I'd been looking for to fully complete my recovery. Getting involved with a team and playing a sport – basketball had always been my favorite growing up – rekindled all the joy and pride that I remembered feeling from sport participation before my accident. Nine years later, in 2009, I was playing for the New York Rollin' Knicks of the NWBA when I received an email with a strange request. A brand-new team of wheelchair basketball players that had just been formed in a little town in the north of Afghanistan was requesting a coach to come and teach them how to play the game to which they had just been introduced. I felt this was my chance to pass along the wonderful gift that I'd been given with wheelchair basketball to a group of people who might never otherwise get to experience it.
I agreed to undertake the mission even though I had never coached before and had never traveled to a developing country (much less a country in the midst of a war). The week I spent coaching that team of brand new players ended up having a huge impact on both them and me. They discovered a love for this new sport and I found my own love for coaching it. While on that trip I was introduced to the International Committee of the Red Cross (ICRC), a humanitarian organization that provides physical rehabilitation services in Afghanistan, as well as many other countries dealing with war and other situations of conflict. The ICRC was interested in using sport for people with physical disabilities as a tool to assist in physical rehabilitation as well as a vehicle for their integration into society. The ICRC asked if I would be willing to help them institute a broader wheelchair basketball program in Afghanistan to enable more people with physical disabilities the opportunity to play. We have been working together ever since.
The wheelchair basketball program in Afghanistan has grown from about 30 male players in 2009 to over 500 total players in 2017, over 120 of which are women. We have established a league with men's teams in 10 provinces and women's teams in 4, each of which participate in national championship tournaments twice each year. We also have national teams for men and women that travel to represent their country abroad. A large number of the players involved in the program have used wheelchair basketball as a stepping stone to furthering their educations, getting jobs, or even starting their own businesses. As a result, we are starting to see a small shift in the societal perception of what people with physical disabilities are capable of, opening more and more opportunities for these athletes. I have continued working with the ICRC over the past several years, and we have supported the formation and evolution of wheelchair basketball programs in countries including Palestine, Cambodia, South Sudan, and India (where I had the opportunity to work with a group of Nepalese coaches in 2015!). The ICRC has also begun supporting additional sports, including disabled athletics, disabled cricket, table tennis, and others.
I am now working as the ICRC's Disability Sport and Integration Advisor, coordinating sport and other societal integration projects for people with physical disabilities all over the world. It is so exciting for me to see organizations like ENGAGE providing opportunities for people with disabilities in places where there may not otherwise be a chance for these people to discover the beauty and power of sport.
Follow Jess at https://jessmarkt.wordpress.com/