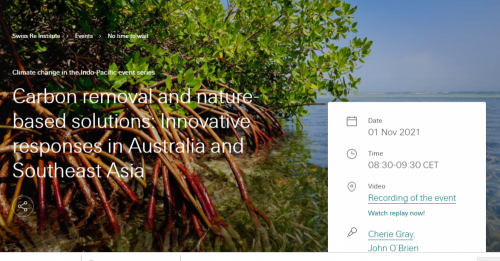 https://www.swissre.com/institute/conferences/no-time-to-wait/carbon-rem...
About the event
Australia, one of the world's largest carbon emitters on a per capita basis, is facing growing pressure to cut its greenhouse gas emissions. But that is not enough – to meet the Paris Agreement goal of limiting warming to well below two degrees, so called "negative emissions technologies" will be needed to remove existing greenhouse gases from the air.
Which negative emissions ventures are already operating in Australia today? How much closer to a net zero future will technological carbon removals, such as carbon capture and storage or direct air capture, bring us? And what role will nature-based solutions, an environmental approach that seeks to counter the negative effects of climate change by working with nature, have to help decelerate climate change?
In episode 3 of the Climate Change in the Indo-Pacific series, we were joined by John O'Brien, Partner, Energy Transition & Decarbonisation, Deloitte Financial Advisory, Australia, expert advisor to Australian governments and the cleantech sector, and Cherie Gray, Global Lead for Sustainability and Market Development at Swiss Re.
"Climate Change in the Indo-Pacific" is a four-part series by Asia Society Switzerland and Swiss Re Institute exploring the effects of climate change on the
Indo-Pacific and the world.