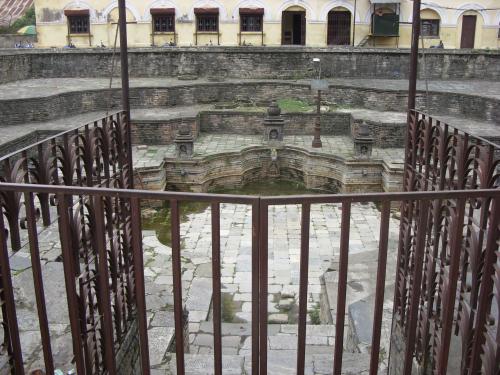 "The Kathmandu and the Patan Sundharas", are two famous "loaha hittis" (water spouts)" or "public dharas". "Sundhara" means golden water spout. A "Bhaktapur Sundhara" remains unmentioned. A Bhaktapur Sundhara perhaps never existed or may have been destroyed or demolished. Since the Malla kings were fiercely competative, such conclusions remain premature.
The "Tusha Hitti", a Malla era icon, at Sundhari Chowk, Patan Durbar, is equally impressive. It is one of the world's most exquisite piece of art. During visits to Patan Durbar, in error and ignorance, I assumed that the many empty spaces ("khopas") in the hitti structure were results from theft or vandalism. A profoundly logical explanation was provided recently. Deliberately, these pockets were emptied to accommodate all those creatures, philosophies, life's mysteries that were unknown and still remain unknown to us transitional mortals of this living earth. I share this so aspiring volunteers can understand this monumental and remarkable way of thinking of the time. It recognized and appreciated inclusiveness. It respected the past, the present, and the future.
Travel the Valley. Realize that much of history is being systematically destroyed. Notice the neglect and ponder the impact on several world heritage sites currently recognized by UNESCO. The expectation that people would cherish, maintain these very unique structures of Nepal and preserve to use them for economic benefits through cultural tourism gets shattered into a thousand pieces. A society that fails to preserve, protect and defend historical structures, monuments and heritage sites, including the Kala Mochan Ghat where humans pay their very last respect to dearly departed souls, has lost its ways. Under Nepal's current realities, this realization amongst the young generation is paramount to preserve Nepal's unique identity.
The "loaha hittis" provide an exemplary material for discussion. "Maruhitti", "Bhotahitti", "Narayanhitti", etc. probably received their names from neighborhood communal hittis. Around 129 "loaha hittis" have been recorded in the Valley. Of these, about a third are believed to be destroyed. The others remain in a state of virtual neglect. These communal properties, the Sundharas and other similar "loaha hittis", deserve better.
A magnificent work of art and masterful engineering, the Kathmandu Sundhara, adjoining Dharahara, is a sore sight. It remains dry as the water source has been destroyed, disrupted or damaged. Without tender loving care, it too will destroy.
Is man the culprit? Could the construction of the adjoining building caused damage to its water source? This developmental disaster teaches an important lesson! Investigate the impact upon the surrounding before regulatory authorities allow new construction around historical, community centers and community property. Without such an analysis, many more disastrous consequences await. Planners and land development stakeholders need to take this lesson to heart. Economic greed, misunderstood priorities, radicalized attempts to eliminate the past motivated by ideology and ideologues can cause irreparable damage.
Complete mismanagement and failed understanding and appreciation of the values and valued assets of Kathmandu Valley has permitted unfettered development. Allowing the destruction of Kathmandu's historical past is ignorance at best and criminal at worst. Bemoaning the damage to these icons of Kathmandu Valley past history, culture and arts is insufficient. Visitors come not only to see the Himalayas but also to experience these unique heritage sites such as the "Sundharas of Kathmandu and Patan", the "Tusha Hitti", Patan Durbar, and other unique monuments.
Imagine the impact if "Sundharas" came to life not as a source of drinking water but as a watering hole for the tired tourists and locals? Picture "Sundharas" with continuous flowing water powered by solar energy, surrounded by the hustle and bustle of business, and kept clean and maintained though the contributions of the surrounding businesses. Can't such magnificent work of art be revived and sustained? What will be the gains? What are the pros and the cons? Excuses have nothing to do with its revival or the unimagined possibilities. A sense of selfless commitment, value and fire in the belly to do the right thing is vitally essential. How costly would such an endeavor be? Perhaps, a few lakhs?
The national natural response is that there are other urgent priorities. The existence and the neglect of the dharas cannot be denied nor ignored. Even though the pathetic condition of "Sundharas" represents a failure to value, respect and take ownership of the national heritage and past of this country, the "Kathmandu Sundhara" can return to life. The familiar musical sound of the gurgling water can ring through this Valley of a thousand gods and boundless potentials! A small noiseless pump recirculates the water through the dharas and ensure a sense of continuous flow. The ambiance created by the gurgling music of the water combined with lighting effect would make "Sundharas" an attractive place to relax, have a drink or even just chat. Wouldn't tourists (local and foreign) enjoy this serene environment amidst the hustle and bustle of commerce?
By volunteering for this worthy calling, young volunteers can restore these valuable historic sites and understand the value of their past heritage! Kathmandu, Lalitpur, Bhaktapur and Kirtipur townships and those that live and breathe the everyday environment of Kathmandu Valley need to make the choice!