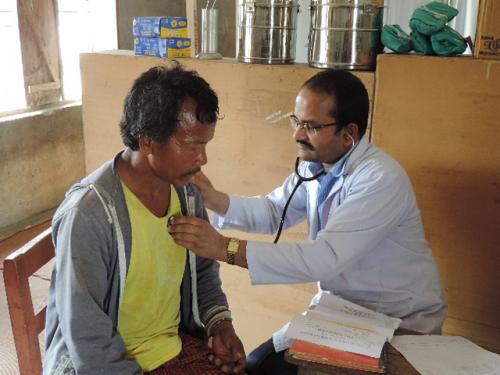 For any business to succeed it must have both excellent internal as well as external partnerships/relationships.  This is especially important for any community based business but especially health care.  Internally positive relationships must exist between various departmental staff and there must be full cooperation if excellent health care and patient services are to be provided.  Externally health care institutions and individuals working in this field must have great relationships with the community in which they are operating to ensure institution wide support.
"Meeeting the community where they are at" by arranging  health camps at schools, NGOs, health posts, haat bazaars and other public gathering places enables area residents to understand how much the people working in a health institution, actually care.  Too often we find that a caring attitude, passion and commitment are tied into implementing excellent service which is not adhered to.  By being in the community, health care workers become real people not just someone waiting in an institution for people to become sick and then avail themselves of services. 
External relationships go well beyond the interaction that one might have at a health camp and must be reinforced by showing the same caring attitude of meeting people where they are at, e.g. on an emotional level, when patients come to a health care institution.  Otherwise there is a great disconnect between public (health camp) and private (in the institution) attitudes, something which patients will notice.  This is reflected in providing consistent patient based services from all departments and helping patients to get healthier and also feel appreciated for using a specific institution.    Showing kindness, by telling a baby or youngster who is afraid and crying that it will be okay or touching their arm, can go quite a long way before, e.g. taking a blood sample or temperature.  Sometimes this won't make a difference, i.e. the baby may continue to cry,  but never-the-less these small actions show the children's parents or caregivers a very caring attitude.  This might not also be appreciated by any of the family members but again shows that the staff person cares about their patient. 
Internal relationships are just as important as the face/attitude which is shown to the public.  How department employees treat their internal colleagues, as well as those from other departments, either creates or does not create a sense of team.  This starts with how top management treats all employees from maintenace staff to doctors as in the case of a health care institution and then filters down to supervisor's treatment of their staff.  One question that can be asked is, "are drivers, cleaners, health assistants, office assistants, etc., treated with the same respect and acknowledgement as a senior level doctor or administrator?"  Answers to this question are very indicative of the types of relationships which exist leading to staff level of committment and the "amount" of team which the organisation has established. 
Developing partnerships/relationships is not an easy process especially since we all possess prejudices and discriminate on some level.  In all businesses creating positive relationships no matter what one's operation consists of will ultimately determine an organisation's success.  When we take the extra step and think about why we shop at a certain store or go to a certain medical institution it comes down to how we are treated.  Fees, especially when one has choices, do come into play, but ultimately it's the feeling that we get when we go to a certain, e.g. medical institution that makes the difference.  Maybe this is based on a certain medical professional or the institution's professionalism, but whatever this is, it comes back to relationships.  In the case of a community based business it's vital that this starts with internal relationships translating into positive community relationships.