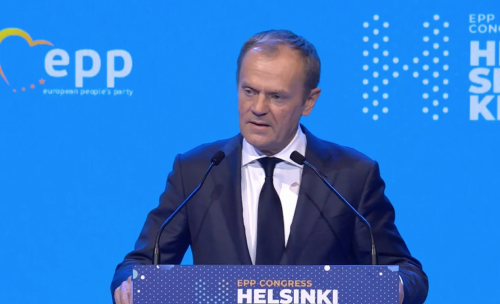 https://www.consilium.europa.eu/en/press/press-releases/2018/11/08/speec...
The migration crisis has given an impulse to a debate on the identity of European Christian Democracy. From its very beginning I was warning against two threats. First, that the powerlessness regarding the wave of illegal migration, to effectively control our external border would provoke a crisis of trust of our citizens in the liberal state and the European Union as a whole. Because people value freedom and openness only as long as they feel safe. The second threat is the emergence of the politicians on the main stage who, by taking advantage of the chaos triggered by the new migration period, started to set security and order against openness and freedom.
Yes, it took us too much time, but finally we managed, thanks to our common efforts, to abandon the logic of powerlessness, and to concentrate on the protection of the external border. There is still a lot of work ahead of us, but at least one thing is obvious: that our priority is to stop illegal migration. I heard this from all the leaders during our last European Council.
When it comes to the second threat which has not yet disappeared. I want to say it very bluntly that no-one has the right, at least in our political family, to attack liberal democracy and its foundations. We cannot agree with an argument that the effective protection of the European border, of our territory and identity, means to defy the rules of liberal democracy.
Let me be absolutely clear:
If you are against the rule of law and independent judiciary, you are not a Christian Democrat;
If you don't like the free press and NGOs, if you tolerate xenophobia, homophobia, nationalism and anti-Semitism, you are not a Christian Democrat;
If you place the state and the nation against, or above, the freedom and dignity of the individual, you are not a Christian Democrat;
If you wish for conflict and divisions globally and inside the European Union, you are not a Christian Democrat;
If you support Putin and attack Ukraine, if you are in favour of the aggressor and against the victim, you are not a Christian Democrat;  
If you want to replace the Western model of liberal democracy with an Eastern model of "authoritarian democracy", you are not a Christian Democrat.
I would like to believe that all of us here wish to remain faithful to the ideals of the true Christian Democracy.
We all want to win the upcoming elections. But let us remember that at stake in these elections are not benefits and jobs, but the protection of our fundamental values. Because without them, our victory will make no sense. Thank you very much.