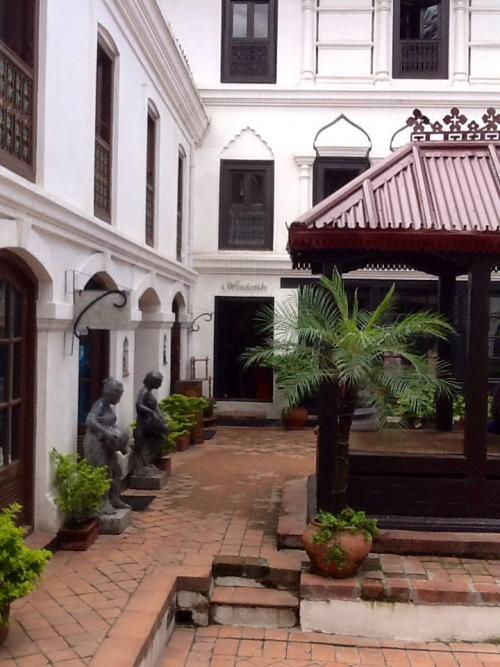 A storyteller at Babar Mahal Revisited, July 17, 2015
Re-envisioning history and heritage is a work in progress. For those of us who had chosen a less strife-ridden vocation, the work IS progress, fraught as it is everywhere with times past and times best left untold. Babar Mahal Revisited is space and time captured, constructed and captivatingly modernized. I sit at Bawarchi even as I write this and hear a slight noise next to me and I think 'aftershock'! Fortunately I am not thinking of an open space to flee to because I am in precisely that. The Mahal is a lost ideal, at best. Modernity in Nepal has finally allowed us as close a replica as modernity itself could muster. Post-modernism has now afforded us the casual wandering mindset with which we can enjoy an afternoon even at a Maharaja's original sketch for his people.
I wax poetic! The earthquake too re-enters with a warning as many earthquakes are known to do. Revisiting the finely sketched Nepali paradigm is always a rediscovery. I am now less of an earthquake refugee and,surprisingly, more of the casual wanderer. Babar Mahal has been revisited and it stands with visceral pride. I have walked into public spaces in Kathmandu following the earthquake as a ghost might, with a silent prayer each time. Is the place still the same? Does it even exist anymore? Babar Mahal is a recreation of a well-known period in Nepal's history. The white-washed fresco-like design that remains in many hearts and minds has been questioned more than it has been enjoyed, appreciated. Those who do not learn the lessons of history are destined to repeat them. Have I?
I hope the beautiful designs and spatial perfection of Babar Mahal Revisited will be celebrated as much as the history it is associated with. I mean, where else can the stone sculpture of Nepal greet a person quite so suddenly? Was it destined to? I have seen many puzzled by the low arches, the small courtyards, the tree sitting quietly and with forgotten precision. French cuisine too. Has globalization not taught us anything beyond discontent? Babar Mahal Revisited is also contentment embodied by space, time, person and place for me. The freedom from constraint and impermanence that the place exemplifies is now this earthquake refugee's refuge from freedom itself.