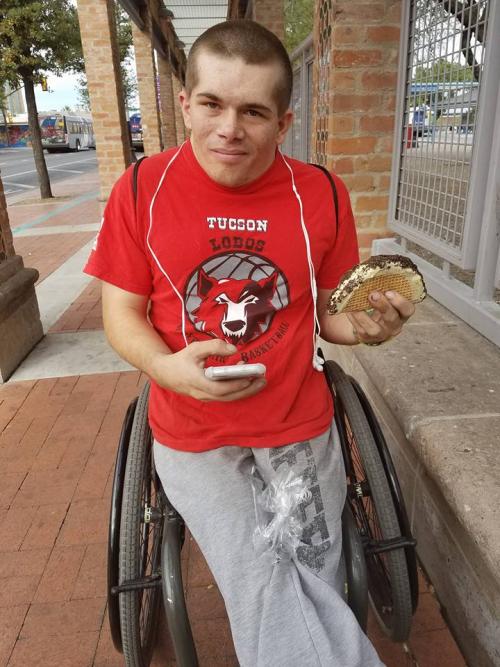 "Starting as a baby, I didn't have it the easy way out. I was born with Caudal Regression Syndrome, an abnormal fetal development of the lower spine. In my case I am missing my tailbone and the bottom 2 or 3 I believe of the lower parts of it as well. Then, that's only the beginning; with this I have hip dysplasia, abnormal height, and to top it off bowel and bladder disorders. From the beginning things are not looking so good. But I had a future to carry out. My grandmother, who raised me, never told me as an infant in the hospital that most never live more than 18 months. So, I fought my way out of that one. Then as I grew up that was how I was raised, fighting to do what most see as impossible.
Besides using a wheelchair, you could consider my childhood to be quite typical. I had friends (and foes), good times and bad times.  I can give the credit to my grandmother that taught me to teach myself. She never saw me as disabled or needy like other mothers do in this situation. If I wanted something, I would have to go for it. But something I can never thank her enough for is when she found out about disabled sports. As I continued to grow up, at school I would still join the P.E. classes and run the mile and try do as many activities as I could, even if I couldn't do everything. My grandmother told me once that she saw me watching kids play and was sad that I couldn't participate with them, as eager as I was.  But in what seems like a moment now I got introduced to Juniors Active in Wheelchair Sports (JAWS).
JAWS, a wheelchair sports program for children with disabilities, was first introduced to me when I was eight years old. Every Saturday I would be driven to Tucson and put in the sports chair to play and have fun with other kids with disabilities. Eventually as I grew older and wiser I began to learn and love to play disabled sports. I remember once that JAWS teams got to play in a couple of basketball games against the kids in Phoenix, and we won! That was one of my proudest moments. Thanks to Peter Hughes, he began afterwards to see a real potential for me in basketball, and for many years encouraged me to progress. When I was introduced to the Tucson Lobos Wheelchair Basketball team, I had no idea what my life had in store for me.
So fast forward a few years, November of 2015. That past August I hit a low point in my life. Shortly put, my grandmother had passed away while we were on a trip in Michigan. After the funeral, I had a lot to do. Getting back to Arizona, I had to almost redo my life. I decided as I made it back that my goal was to get to Tucson. With the help of my local church-Calvary St. David Christian Church I was able to locate an apartment, receive transportation there, and receive all the necessities and more to live. Then in Tucson, things just seemed to unfold for me. At the top of my list was basketball. From there, I started college, working towards a degree in Social Work.
Today I am about to start my third semester at Pima Community College, and plan on transferring to Arizona State University (ASU) School of Social Work in a year. I am about to begin my second official basketball season with the Tucson Lobos. Let me talk about last season for a second. As a "freshmen" basketball player I had much to learn with little time to do it. But through it, I transformed into a new person. After many practices, I was asked to play in the first tournament of the season in Phoenix, and then was a ball handler at our tournament. In San-Diego I started to lead the team a little, where we won 79-40 I think. Then after that I began to play point guard and traveled to Phoenix again, Las Vegas twice, and then we made it into Louisville, where we began to work as a team ending up 11th in the nation. To sum it all up, I saw a huge change in me. On the court and off the court I developed leadership skills and learned to be humble.
So now today I stand, or sit technically, as a new person. This Fall I begin with this:  five college classes, a star player for a team I love, and beginning anew I will be heading up a new outreach program to promote wheelchair sports through Southern Arizona Adaptive Sports (SAAS),  to show possibly other kids like me what is possible. On a more personal level, I also want to include that emotionally wheelchair sports has been and will be something I will always keep with me through- my life. When I struggled with life after my grandmother passed, getting back into basketball was the only thing on my mind. It gave me an escape at first from the pain. As I continued with it I found new friends, a community I of people I could look up to, and opportunities that gave me happiness. At the same time, it taught me a lot about life, who I was as a person, and what I needed to change within me. So, I end with this, I am possible."