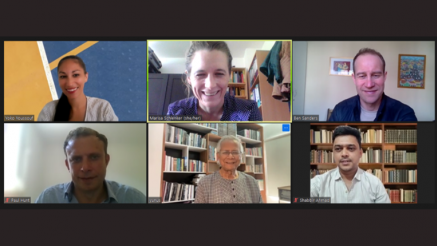 https://www.sportanddev.org/en/article/news/sportanddev-and-ysh-partner-...
The International Platform on Sport and Development (sportanddev) and Yunus Sports Hub (YSH) are pleased to announce the signature of a Memorandum of Understanding (MOU), aiming to develop and strengthen social business in Sport for Development.
With our common interest to harness the power of sport-based organisations to lead on and provide solutions to global and local social issues, we are thrilled to have this MOU in place to structure our different points of collaboration. Together, we will support and build the capacity of actors using sport for development that are interested in developing social business models to diversify their revenue streams.
One immediate point will be to contribute to and cross-promote our respective platforms which house an abundance of resources and opportunities for sport for development actors.
On the one side, sportanddev's 

international platform

 (which is currently being upgraded to better serve its users) and our Reshaping Sport and Development 

campaign 

 which aims to champion, strengthen and sustain the sport and development sector

On the other side: 

Pitch

, the recently launched platform (currently in beta mode) created by the Yunus Sports Hub to empower sport NGOs and sport entrepreneurs to take the next steps to generate new forms of revenue
Yoan Noguier, co- founder of YSH, shared his reflections on the significance of this MOU: "We are delighted to sign this MoU with sportanddev. We are looking forward to their enhanced platform which aims to brings even greater value to the sector. By complementing this platform with our own platform, Pitch, we hope to equip and build the capacity of all Sport for Development NGOs across the globe and build a more financially sustainable and even more impactful Sport for Development sector."
Ben Sanders, senior consultant at sportanddev, welcomed the partnership: "We know that actors using sport for sustainable development face serious funding and resource challenges, which have been worsened by the COVID pandemic. One way to tackle this problem is by diversifying revenue streams so that organisations are no longer wholly dependent on a traditional funding model. This is why we are excited to sign this MOU with Yunus Sports Hub and provide resources and tools to organisations to help them generate their own revenue."
I am amazed at the power of the Sport for Development sector. Thousands of organisations across the globe, working on the ground and dedicated to using sport as a tool to solve the most pressing issues of our societies. Today, most of them are using the traditional charity model: money is raised, spent, does a fantastic job, but does not come back. Imagine just how much social potential we could untap if fundraising was not an issue and all these fantastic organisations had a self-sustainable business model. Every dollar invested could be reused, over and over again"

-Professor Yunus
About Yunus Sports Hub
Under the leadership of Prof Muhammad Yunus, Peace Nobel Laureate 2006 and Founder of the Grameen Bank, Yunus Sports Hub is the global social business network creating solutions to local problems in and through sport.
To do so, Yunus Sports Hub coordinates a network of 5000+ experts in 150+ countries to:
Promote the social business and sport concept

Help organisations implementing the social business and sport concept

Support entrepreneurs in the field of social business and sport
Through its activities, Yunus Sports Hub aims to empower people and organisations to solve some of the grand challenges of humanity, such as poverty and exclusion.
About The International Platform on Sport and Development
sportanddev is the leading global hub for those using sport to achieve social, economic and environmental objectives. It is widely recognised as the foremost global platform to share knowledge, build good practice, coordinate with others and create partnerships.
sportanddev has three overarching goals:
 1. Increase the visibility of sport's development potential
2. Contribute to improving sport and development practice
3. Encourage dialogue, promote partnership building and facilitate strategic alliances