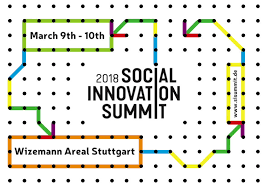 Find here the link:
JOINT VISION. COLLECTIVE ACTION. BETTER FUTURE.
The Social Innovation Summit #SIS18 is a two day international event on the 9th – 10th of March 2018 that addresses relevant topics in the context of social innovation and entrepreneurship.
The event will aim to: 
create a common understanding of social innovation to
drive collaboration across sectors in order to
achieve collective impact
This is not a usual conference about technology, digitalisation, startups, corporates or businesses of any kind. It is about using technologies, concepts, institutions and scalable solutions to create a better world.
This event is supported by SIX Global Council member The Robert Bosch Stiftung.