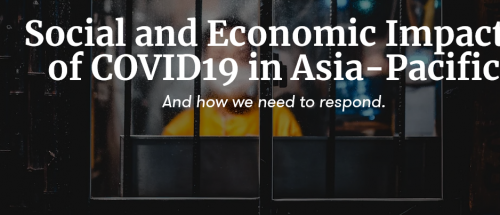 https://www.asia-pacific.undp.org/content/rbap/en/home/stories/social-an...
The COVID-19 pandemic and the associated economic crisis are posing huge challenges, raising many unknowns and imposing wrenching trade-offs. Both crises are global, but their impacts are deeply local. The policy response to both crises needs to be rapid, even if it is rough around the edges. But countries cannot pull this off on their own—the global crises require global solidarity and coordination.
Governments must dramatically overhaul policies and invest in public health, economic stimulus, and social safety nets, to help countries recover faster from the COVID-19 pandemic. The economic report warns that a patchwork of preexisting solutions won't work and points out that governments must coordinate with each other to hasten the recovery. This is a global crisis and working in silos is not an option, it says.   
 
The report 'Position Note on the Social and Economic Impacts of COVID-19 in Asia-Pacific' calls on countries in the region to avoid returning to the pre-pandemic environmentally unsustainable development path, and to capitalize on the opportunity to build a better future
COVID-19 = Health Crisis + Economic Crisis
Two concurrent global crises—a health crisis and an economic crisis—are engulfing the world. Both crises are global, but their impacts are deeply local. The policy response to both crises needs to be rapid, even if it is rough around the edges.
A rapid response is needed. Even if rough around the edges, a fast response is better than one that is perfect but slow. Our latest paper calls for policies that meet immediate needs—containing the virus's spread and strengthening health systems to prepare for the next shock, including a possible recurrence of COVID-19, while simultaneously responding to the looming economic downturn.
FIRST THINGS FIRST: SAVE LIVES, PROTECT LIVELIHOODS
We need to respond to this health emergency with decisions based on evidence, provide people with the best accurate information, and provide free or affordable COVID-19 testing and treatment;
We need to preserve jobs and incomes for the millions of people losing their livelihoods. To assist them, we should expand social safety nets using universal income support schemes, and work with banks, fintech and the private sector to deliver social transfers;
The pandemic is hitting women harder and we must acknowledge as well as alleviate the burden of work that involves caring for their families and the sick that is being unequally imposed upon them;
Countries must coordinate policies and cooperate across borders to address the plight of refugees and migrants, as these are some of the most vulnerable populations and we cannot leave them behind.
ILO expects a devastating 6.7 percent loss in working hours globally in the second quarter of 2020, equivalent to 195 million full-time workers – 125 million of which are in Asia-Pacific.
REVISE BUDGETS, CHANGE POLICIES AND RULES: DON'T TAKE THEM AS A GIVEN
Fiscal space needs to be created to respond to the crisis by revisiting existing policies, rather than applying patches to them.
Create fiscal space—raise revenues and avoid wasteful spending—to channel more resources to public health, economic stimulus and the social safety net. That means governments need to revise their priorities reflected in budget revenue, spending and financing. By doing so, they can contain increases in fiscal deficits and surges in public debt;
Governments should use stimulus funds and incentives for populations that need them the most. This would mean channelling sizeable parts of such stimulus packages to small and informal businesses, the vulnerable and poor, and avoid the use of stimulus funds and incentives that enrich the well-off;
By coordinating globally, countries can address so-called 'fiscal termites'—long-standing problems that undermine national budgets such as tax competition, tax evasion via tax havens and transfer pricing, and fossil fuel subsidies. They should tax the digital economy. Global coordination is also needed to facilitate debt relief to heavily indebted countries, Small Island Developing States (SIDS) and Least Developed Countries (LDCs).
We need to restart trade by reducing trade tariffs and open borders for goods, even while they are closed for people. And it is essential to safeguard and restore the supply chains of essential goods and services;
Governments should make it easier to conduct business by improving public services and making them accessible through digital technology. They should support small, medium-sized and informal enterprises.