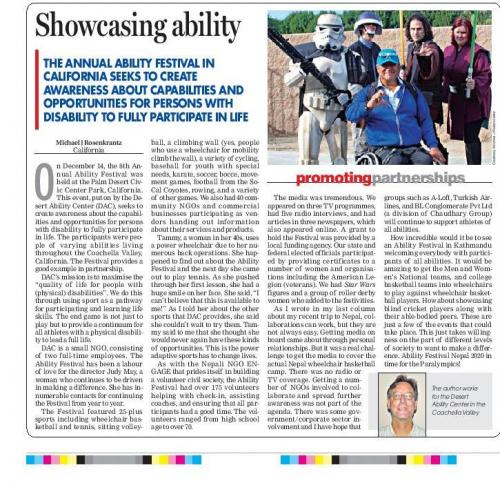 On December 14, the 8th Annual Ability Festival was held at the Palm Desert Civic Center Park, California. This event, put on by the Desert Ability Center (DAC), seeks to create awareness about the capabilities and opportunities for persons with disability to fully participate in life. The participants were people of varying abilities living throughout the Coachella Valley, California. The Festival provides a good example in partnership.
DAC's mission is to maximize the "quality of life for people with (physical) disabilities." We do this through using sport as a pathway for participating and learning life skills. The end game is not just to play but to provide a continuum for all athletes with a physical disability to lead a full life.
DAC is a small NGO, consisting of two full-time employees. The Ability Festival has been a labor of love for the director Judy May, a woman who continues to be driven in making a difference. She has innumerable contacts for continuing the Festival from year to year.
The Festival featured 25+ sports including wheelchair basketball and tennis, sitting volleyball, a climbing wall (yes, people who use a wheelchair for mobility climb the wall), a variety of cycling, baseball for youth with special needs, karate, soccer, bocce, movement games, football from the So-Cal Coyotes, rowing, and a variety of other games. We also had 40 community NGOs and commercial businesses participating as vendors handing out information about their services and products.
Tammy, a woman in her 40's, uses a power wheelchair due to her numerous back operations. She happened to find out about the Ability Festival and the next day she came out to play tennis. As she pushed through her first lesson, she had a huge smile on her face. She said, "I can't believe that this is available to me!" As I told her about the other sports that DAC provides, she said she couldn't wait to try them. Tammy said to me that she thought she would never again have these kinds of opportunities. This is the power adaptive sports has to change lives.
As with the Nepali NGO ENGAGE that prides itself in building a volunteer civil society, the Ability Festival had over 175 volunteers helping with check-in, assisting coaches, and ensuring that all participants had a good time. The volunteers ranged from high school age to over 70.
The media was tremendous. We appeared on three TV programs, had five radio interviews, and had articles in three newspapers, which also appeared online.
A grant to hold the Festival was provided by a local funding agency. Our state and federal elected officials participated by providing certificates to a number of women and organizations including the American Legion (veterans). We had Star Wars figures and a group of roller derby women who added to the Festivities.
As I wrote in my last column about my recent trip to Nepal, collaborations can work, but they are not always easy. Getting media on board came about through personal relationships. But it was a real challenge to get the media to cover the actual Nepal wheelchair basketball camp. There was no radio or TV coverage. Getting a number of NGOs involved to collaborate and spread further awareness was not part of the agenda. There was some government/corporate sector involvement and I have hope that groups such as A-Loft, Turkish Airlines, and B.L. Conglomerate Pvt. Ltd. (a division of Chaudhary Group) will continue to support athletes of all abilities.
How incredible would it be to see an Ability Festival in Kathmandu welcoming everyBODY with participants of all abilities. It would be amazing to get the Men and Women's National teams, and college basketball teams into wheelchairs to play against wheelchair basketball players. How about showcasing blind cricket players along with their able-bodied peers. These are just a few of the events that could take place. This just takes willingness on the part of different levels of society to want to make a difference. Ability Festival Nepal 2020 in time for the Paralympics!