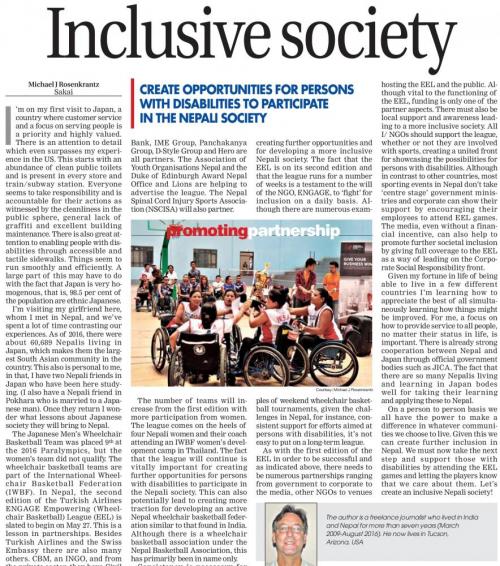 For the past two weeks, I've been visiting Japan.  This was my first visit to the country where customer service and a focus on serving people is a priority and highly valued.  There is an attention to detail which even surpasses my experience in the US. This starts with an abundance of clean public toilets and is present in every store and train/subway station.  Everyone seems to take responsibility and is accountable for their actions as witnessed by the cleanliness in the public sphere, general lack of graffiti and excellent building maintenance. There is also great attention to enabling people with disabilities through, e.g. accessible and tactile sidewalks.  "Things" seem to run smoothly and efficiently.  A large part of this may have to do with the fact that Japan is very homogenous, i.e. 98.5% of the population are ethnic Japanese.  
Given that I'm visiting my girlfriend who I met in Nepal, we've spent a lot of time contrasting our experience.  As of 2016, there were about 60,689 Nepalis living in Japan, which makes them the largest South Asian community in the country. This also is personal to me in that I have two Nepali friends in Japan who have been here studying.  (I also have a Nepali friend in Pokhara who is married to a Japanese man).  Once they return I wonder what lessons about Japanese society they will bring to Nepal?
The Japanese Men's Wheelchair Basketball Team placed 9th at the 2016 Paralympics, but the women's team did not qualify.  The wheelchair basketball teams are part of the International Wheelchair Basketball Federation (IWBF). 
In Nepal, the second edition of the Turkish Airlines ENGAGE Empowering (Wheelchair Basketball) League (EEL) is slated to begin on May 27. This is a lesson in partnerships. Besides Turkish Airlines and the Swiss Embassy there are also many others.  CBM, an INGO, and from the private sector, Civil Bank, IME Group Panchakanya Group, D-Style Group and Hero are all partners.  The Association of Youth Organizations Nepal and the Duke of  Edinburgh Award Nepal Office  and Lions  are helping to advertise the League.  The Nepal Spinal Cord Injury Sports Association (NSCISA) will also partner. 
The number of teams will  increase from the first edition with more participation from women.  The League comes on the heels of four Nepali women and their coach attending an IWBF women's development camp in Thailand.  The fact that the League will continue is vitally important for creating further opportunities for persons with disabilities to participate in Nepali society.  This can also potentially lead to creating more traction for developing an active Nepal wheelchair basketball federation similar to that found in India.  Although there is a wheelchair basketball association under the Nepal Basketball Association, this has primarily been in name only.
Consistency is necessary for creating further opportunities (discoverability) and for developing a more inclusive Nepali society.   The fact that the EEL is on its second edition and that the League runs for a number of weeks is a testament to the will of the NGO ENGAGE to "fight" for inclusion on a daily basis.  Although there are numerous examples of weekend wheelchair basketball tournaments, given the challenges in Nepal, e.g. consistent support for efforts aimed at persons with disabilities, it's not easy to put on  a long-term league. 
As with the first edition of the EEL in order to be successful and as indicated above, there need to be numerous partnerships ranging from government to corporates to the media, other NGOs to venues hosting the EEL and the public.  Although vital to the functioning of the EEL, funding is only one of the partner aspects. There must also be local support and awareness leading to a more inclusive society.  All I- and local NGOs should support the League, whether or not they are involved with sports, creating a united front for showcasing the possibilities for persons with disabilities.  Although in contrast to other countries, most sporting events in Nepal don't take "center stage" government ministries and corporates can show their support by encouraging their employees to attend EEL games.  The media, even without a financial incentive, can also help to promote further societal inclusion by giving full coverage to the EEL as a way of leading on the Corporate Social Responsibility front. 
Given my fortune in life of being able to live in a few different countries I'm learning how to appreciate the best of all simultaneously learning how things might be improved.  For me a focus on how to provide service to all people, no matter their status in life, is a real key.  There is already strong cooperation between Nepal and Japan through official Government bodies such as JICA.  The fact that there are so many Nepalis living and learning in Japan bodes well for taking their learnings and applying these to Nepal. 
On a person to person basis we all have the power to make a difference in whatever communities we choose to live.  Given this we can create further inclusion in Nepal.  We must now take the next step and  support those with disability by attending the EEL games and letting the players know that we care about them and creating an inclusive Nepali society!