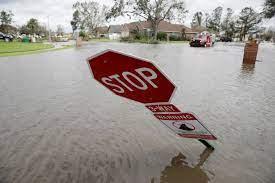 The upside is we're seeing action – and the appetite and financing for more.

"As of December 2020, over two thirds of the world's GDP was being generated in places with actual or intended 'net zero by 2050' targets, covering over half the world's population and emissions," says the UN's progress report. We're also seeing business rally around environmental, social, governance (ESG) reporting standards, and invest in reaching net zero within their own companies, too.
Sustainable Development Goals to save the planet
All 17 SDGs touch in some way on environmental health and the impacts of climate change. However, when it comes to saving the planet, we're specifically talking about these six:

SDG 6: Clean Water and Sanitation, including ensuring access to safe and affordable drinking water and sanitation, improving water quality and water-use efficiency and protecting and restoring water- ecosystems.

SDG 7: Affordable and Clean Energy, including ensuring access to affordable, reliable and modern energy and increasing the use of renewable energy.

SDG 11: Sustainable Cities and Communities, which covers access to adequate, safe, affordable and sustainable housing, transportation and public green spaces; inclusive and sustainable urbanization; protecting the world's cultural and natural heritage; reducing deaths and economic losses due to natural disasters; and reducing the adverse per capita environmental impact of cities.

SDG 13: Climate Action, a call to reduce greenhouse gas emissions, strengthen resilience to climate change and natural disasters and support the UN Framework Convention on Climate Change.

SDG 14: Life Below Water, which targets marine pollution, ocean acidification and overfishing, calls for more sustainable management, protection and conservation of marine and coastal ecosystems.

SDG 15: Life on Land, including protecting, restoring and promoting sustainable use of terrestrial ecosystems, sustainably managing forests and halting and reversing land degradation and biodiversity loss.
Have you read?
How much progress has been made?
When it comes to the environment-focused goals, the UN's latest report on the SDGs reveals we've made a little progress – but an alarming amount of work still needs to be done.

Greenhouse gas emissions continue to rise and "need to be reduced by 45% by 2030 from 2010 levels, and reach net-zero emissions by 2050", says the report.



In the ocean, while marine protected areas have "increased significantly", increases have "plateaued", while ocean "dead zones – areas of water that lack sufficient oxygen to support marine life – increased from around 400 in 2008 to approximately 700 in 2019".



On land, deforestation, land degradation, development and wildlife trafficking (among other issues) threaten 28% of species with extinction and, as in the ocean, efforts to protect biodiversity areas have stalled. Between 2000 to 2020, we've lost almost 100 million hectares of forest land.



What about the impact on people's lives? More people have access to safe drinking water (74.3% in 2020 from 70.2% in 2015), sanitation (54% in 2020 from 47.1% in 2015) and clean cooking fuels (66% in 2019 from 57% in 2010). However, last year, 2 billion people lacked safely managed drinking water and 3.6 billion safely managed sanitation – essentials for hygiene during a pandemic.

We are seeing greater investment in mitigation efforts – development of renewable energy, provision of climate finance, protection of land and marine ecosystems – but more funding is needed. Luckily, we're seeing the appetite among governments, businesses and other stakeholders to do what it takes to stop the destruction of the planet – and a recognition that urgent action is needed now.
What are the World Economic Forum and its partners doing to create a sustainable planet?
The Climate Action Platform is helping businesses, governments and NGOs accelerate and scale the ambition and partnerships needed to address climate change. Thirty-two projects cover a range of industries and goals, including:




This is just a small sample of World Economic Forum programmes focused on climate action – learn more.