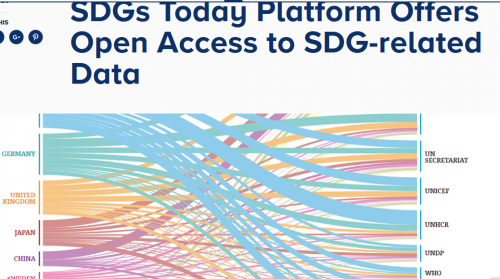 http://sdg.iisd.org/news/sdgs-today-platform-offers-open-access-to-sdg-r...
The Sustainable Development Solutions Network (SDSN) launched 'SDGs Today: The Global Hub for Real-Time SDG Data' on the sidelines of the 2020 session of the High-level Political Forum on Sustainable Development (HLPF).
The data portal offers open access to sustainable development data that are updated regularly (at least once every year). The portal was developed in partnership with Esri and the National Geographic Society.
The new portal aims to provide visitors with a snapshot of the state of sustainable development around the world as well as to enable users to access and engage with sustainable development data, obtain GIS training and resources, and learn how to use the data to drive action on the 2030 Agenda for Sustainable Development. 
The 'SDGs Today' portal's datasets are based on data sources and methods that are updated regularly and have been produced within the last year. The datasets are vetted by SDSN, which produces an annual Sustainable Development Report. SDSN reports that the datasets were selected "based on the level of frequency, quality, international comparability, public availability, and ease of understanding." Additional datasets will be added to the portal in the coming months. The portal also offers access to SDSN's Index and Dashboards, which are developed as part of its annual Sustainable Development Report. 
The data featured on the site are not the official datasets used for global SDG monitoring in UN reports, such as the UN Secretary-General's annual SDG Progress Report and the Sustainable Development Goals Report, which rely on data gathered by the UN Statistics Division.