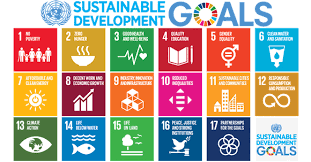 Full report can be found here: https://sustainabledevelopment.un.org/hlpf
A very good analysis can be found here: http://sdg.iisd.org/news/un-secretary-general-releases-2020-sdg-progress...
Introduction  
 
1. In September 2019, Heads of State and Government came together at the SDG Summit to renew their determination to implement the 2030 Agenda for Sustainable Development. In doing so, they recognized that the first four years of implementation had seen some important progress, but that overall, the world was not on track to deliver by 2030.  In this context, I launched a Decade of Action to deliver the Sustainable Development Goals, urging all actors to dramatically increase the pace and scale of implementation efforts.   
 
2. The 2020 SDG Progress Report underscores the urgency of such an effort. Drawing on the latest data, it illustrates the continued unevenness of progress and the many areas where significant improvement is required.1 Up to the end of 2019, progress continued to be made in some areas: global poverty continued to decline, albeit at a slower pace; maternal and child mortality rates were reduced; more people gained access to electricity; and countries were developing national policies to support sustainable development and signing international environmental protection agreements. In other areas, however, progress had either stalled or been reversed: the number of people suffering from hunger was on the rise; climate change was occurring much faster than anticipated; and inequality continued to increase within and among countries.  
 
3. Perhaps even more concerning, this report also highlights the impacts and implications of the COVID-19 pandemic on all 17 Goals. What began as a health crisis has quickly become the worst human and economic crisis of our lifetimes. As of end of April, the coronavirus had spread to more than 200 countries and territories, the number of confirmed cases rose to over 3.2 million, and the global death toll passed 230,000. The effects of the pandemic and the measures taken to mitigate its impact have overwhelmed the health systems globally, caused businesses and factories to shut down and severely impacted the livelihoods of half of the global workforce, kept 1.6 billion students out of schools, disrupted global value chains and the supply of products, and is expected to push tens of millions of people back into extreme poverty and hunger.   
 
4. The poorest and the most vulnerable people are affected disproportionally by the pandemic, including women, children, older persons, persons with disabilities, migrants and refugees and informal sector workers.  Similarly, vulnerable countries, including least developed countries (LDCs), land-locked developing countries (LLDCs), small island developing States (SIDS), and countries in humanitarian or fragile situations, stand to be hit hardest in the long term due to the fragility of their health systems, limited coverage of their social protection systems, limited financial and other resources, vulnerability to external shocks, and excessive dependence on international trade.   
 
 
5. The global crisis is also affecting critical operations across the entire global statistical and data system, with delays in planned censuses and surveys and serious disruptions in all statistical operations. National and international statistical organizations will need renewed action and support to ensure the continuity of key statistical compilation activities and availability of data to inform emergency mitigation actions by governments and all sectors of society to respond to the crisis and to continue the implementation of the 2030 Agenda.  
 
6. All of this underscores the need for international solidarity and cooperation more than ever before.  The United Nations family is responding across all pillars and all aspects of the crisis. I have called for a large-scale, coordinated and comprehensive multilateral response amounting to at least 10% of global GDP and pushed for a series of measures to give developing countries the financial firepower they need to weather this storm. And the UN Sustainable Development Group has agreed a dedicated socio-economic framework and is mobilizing and repurposing resources so as to maximize the UN's collective offer to governments at this critical time.
 
7. While this crisis is imperiling progress towards the Sustainable Development Goals, it also makes their achievement all the more urgent and necessary. Moving forward, it is essential that recent gains are protected as much as possible and a truly transformative recovery from COVID19 is pursued, one that reduces risk to future crises and bring much closer the inclusive and sustainable development required to meet the goals of the 2030 Agenda and the Paris Agreement on Climate Change. This is the first task of the Decade of Action. It will require leadership, foresight, innovation, finance and collaboration among all governments and all stakeholders. And, as the United Nations marks its 75th anniversary, it will require a surge in international cooperation and multilateralism.  
 
8. To ensure that the world emerges from this crisis stronger, the United Nations, all governments and all partners have to stay the course together.