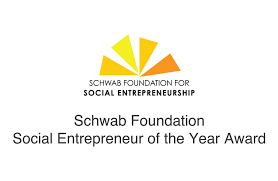 The 2019 awards
We are excited to bring together the first intersectoral community of social innovators at the World Economic Forum by introducing three new categories, in addition to our Social Entrepreneur awards, as we announce our 2019 awardees:
· Social Entrepreneurs are founders or CEOs who innovatively address a social or environmental problem, with a focus on low-income, marginalized or vulnerable populations.
· Corporate Social Intrapreneurs are leaders within multinational or regional companies who drive the development of new products, initiatives, services or business models that address societal and environmental challenges.
· Public Social Intrapreneurs are government leaders who harness the power of social innovation social entrepreneurship to create public good through policy, regulation or public initiatives.
· Social Innovation Thought Leaders are recognized experts and champions who are shaping and contributing to the evolution of the field.
Citizens, activists and our youth are crying out for strong action, requiring complex changes within governments, business and our research institutions. We have seen this call answered by a committed group of social innovators called intrapreneurs: internal agents of change in large institutions of government and corporations. They use the levers and resources at their disposal for greater change, while striving for the internal changes needed in their institutions to achieve this.
"Public sectors around the world are having to ratchet up their capacity to innovate – opening themselves not just to the creativity of their own staff but also to the creativity of civil society and social innovators as well as tech and business" – Geoff Mulgan, Chief Executive, Nesta, Schwab awardee 2019.
Large corporations inspired by the social innovation movement have built their own social business models and subsidiaries, and adopt principles of inclusion and impact into their core business services.
"When you want to develop and scale a business with a strong social impact component, I don't think there is a better way to do it than from within a larger organization, with the resources and assets necessary to give you the space and time to do it well. That is, of course, if and only if the leadership has the indefectible will and ongoing involvement to make it happen" – Garance Wattez-Richard, Head of AXA Emerging Customers, Schwab awardee 2019