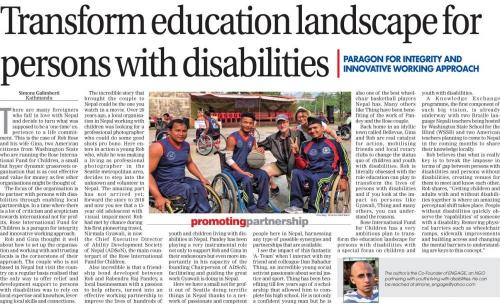 There are many foreigners who fall in love for Nepal and decide to turn what was supposed to be a "one time" experience a life commitment.
This is the case of Rob Rose and his wife Gina, two American citizens from Washington State who are running the Rose International Fund for Children, a small but "hyper dynamic" grassroots organization that is as cost effective and value for money as few other organizations might be thought of.
The focus of the organization is to partner with persons with disabilities through enabling local partnerships.
In a time where there is a lot of criticism and skepticism towards international not for profits, Rose International Fund for Children is a paragon for integrity and innovative working approach.
Rob and Gina thought it well about how to set up the organization and working with and trusting locals is at the cornerstone of their approach.
The couple who is not based in Nepal but visit the country on regular basis realized that the only way to offer relief and development support to persons with disabilities was to rely on local expertise and knowhow, leveraging local skills and connections.
The incredible story that brought Rob and Gina to Nepal could be the one you watch in a movie: over twenty years ago a local organization in Nepal working with children was looking for a professional photographer who could do some good shots pro bono.
Here enters in action a young Rob who, while he was making a living as professional photographer in the Seattle metropolitan area, decides to step into the unknown and volunteer in Nepal.
The amazing part has not arrived yet: Forward the story in 2018 and now you see that a fifteen year old adolescent with visual impairment Rob had met by chance during his first pioneering travel called Nirmala Gyawali is now the Chief Executive Director of Ability Development Society of Nepal (ADSoN), the main counterpart of the Rose International Fund for Children.
Also incredible is that a friendship bond developed between Rob and a local businessman with a passion to help others, Mr. Rabendra Raj Pandey turned into an effective working partnership to improve the lives of hundreds of youths and children living with disabilities in Nepal.
Mr. Pandey has been playing a very instrumental role not only to support Rob and Gina in their endeavors but even more importantly in his capacity of the founding Chairperson of ADSoN, facilitating and guiding the great work Nirmala is doing in Nepal.
Here we have a small not for profit out of Seattle doing terrific things in Nepal thanks to a network of passionate and competent people here in Nepal, harnessing any type of possible synergies and partnerships that are available.
For example both Rob and Mr. Pandey have been life Rotarians and actually it was the Rotary that brought them together.
Organizations like Rotary or Lions are made by a network of well-connected individuals who want to play an active role in the society, doing their bit to improve the living conditions of those who are disadvantaged.
I see the impact of this fantastic "A- Team" when I interact with my friend and colleague Dan Bahadur Thing, an incredible young social activist passionate about social justice and sport.
Dan has been benefiting till few years ago of a scholarship that allowed him to completed his high school.
Dan is not only a confident young man but he is also one of the best wheelchair basketball player Nepal can count of.
Many other youths like Dan have been benefiting of the work of Nirmala Mr. Pandey, Gina and Rob.
Back home in an idyllic town called Bellevue, Gina and Rob are real catalyst for action, mobilizing friends and local rotary clubs to change the status quo of children and youths with disabilities
Rob is literally obsessed with the role education can play to transform the lives of persons with disabilities and if you look at the impact on persons like Nabina, Dan and many others, you can understand the reasons.
Rose International Fund for Children has a very ambitious plan to literally transform the education landscape for persons with disabilities with a special focus on children and youths with disabilities.
A "Knowledge Exchange" program, is the first component of such big vision, is already underway with two braille language Nepali teachers are being hosted by Washington State School for the Blind (WSSB) and two American teachers planning to come to Nepal in the incoming months to share their knowledge locally.
Rob believes that what is really key is to break the impasse in terms of gap between persons with disabilities and persons without disabilities, creating venues for them to meet and know each other.
It's according to Rob a "'chicken or egg' type of problem as in order to increase awareness you need to get PwD's out in the community, but access remains difficult".
Rob shares "Getting children and adults with and without disabilities together is where an amazing perceptual shift takes place. People without disabilities quickly observe the 'capabilities' of someone with a disability. Removing physical barriers such as wheelchair ramps, sidewalk improvements and building access AND changing the mental barriers to understanding are keys to this concept. "
Rob and Gina and their friends in the USA and around the world are trying to do this, day by day, step by step.
They decided that the only way is through local expertise and enhanced ownership by local counterparts.
Mr. Pandey and Nirnala and their team at ADSoN are relentlessly doing their best here in Nepal to make sure that children and youths with disabilities have their rights to education implemented.
This is the only way to offer them a pathway towards a meaningful life, a life where they can thrive and contribute.
Galimberti is the Co-Founder of ENGAGE, an NGO partnering with youths living with disabilities. He can be reached at simone_engage@yahoo.com