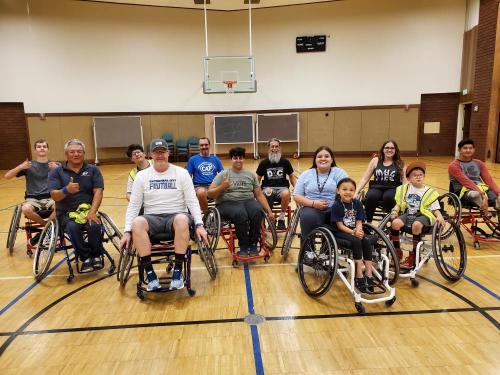 Every Sunday we offer wheelchair tennis at the JW Marriott Desert Springs Resort and Spa in Palm Desert, California. This week in the neighboring town, at the Indian Wells Tennis Garden, there was supposed to be an international tennis tournament—the BNP Paribas Open—taking place and featuring many of the top professionals in the world. Prior to the Open, the tennis players visit a number of local tennis clubs, helping to promote the sport. On March 8 during wheelchair tennis, we met and took a photo with David Goffin from Belgium who is currently ranked as the No. 10 men's player in the world. On the court next to us was Gabriella Harper playing with her parents. Gabriella is 11 years old, and is an incredible junior player in the US. She also met and took a photo with our group.   (Unfortunately, due to the Corona Virus the Tournament was cancelled).
On Thursday, March 5 we started playing wheelchair basketball on the court at the Church of Jesus Christ of Latter  Day Saints in Palm Desert. As you might have read in my January 12 column, "Divine Intervention," we seemed to be getting spiritual guidance in making wheelchair basketball happen in the Coachella Valley. The Wednesday before basketball started, I was in need of a "needle" to blow up our basketballs. I asked my contact at the church to bring one. As it happened, I was at a workshop during the day at another non-profit organization. While taking a break during the workshop I noticed the exact type of needle I needed, on the floor for blowing up basketballs! How is this totally seemingly random event possible?
Through my previous work at Bridge II Sports in North Carolina I was able to meet the famous Duke men's basketball coach Mike Krzyzewski, some former NBA players who played in a wheelchair basketball fundraiser, authors and others who have made their mark in the world. These experiences have undoubtedly enriched my life.
Although I enjoy meeting "famous" people, ultimately, I most enjoy the athletes that I've met and befriended. Jessica is a super athlete playing both wheelchair tennis and basketball, racing, cycling and participating in marathons. Ali has recently started participating again, attending our in-door cycling clinic on Mondays, playing wheelchair basketball on Thursdays and tennis on Sundays. There is Will and Ed regularly joining in our cycling rides on Saturdays. Will, who is sight-impaired and has had an amputation, not only cycles but also plays basketball and participates in any sport that suits his fancy. There's also Tom, Sergio, Dana, Zac; Clara, and youth such as Damian, another super athlete; and Charlie, a wonderful tennis player; and Asher, a racer, and his sister Max. There are also many others I know from North Carolina, Arizona, and other parts of the US and the larger world.
The more people I meet, and in doing so build relationships and bring people into an understanding of adaptive sports, the more motivated I become. I feel that there is a huge opportunity to get more people involved and help more people to live a healthy and fulfilling life. The more that I can be open to these opportunities and not be afraid the more that I can do to serve others.
When I learned about and started coaching wheelchair basketball in India in 2011 I had little idea where this path would lead. Today I would say that working in the adaptive sports field is something I want to do for the rest of my life. Ultimately, adaptive sports is all about the athletes. But it has also been about the experiences that I've had and the people whom I've been able to meet and work with.