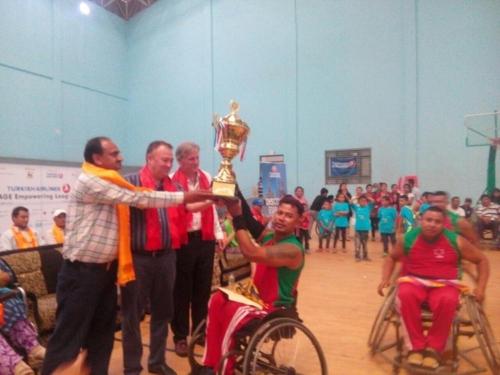 Few years ago I and my wife Kalpana decided to create ENGAGE as a local platform that, as the name itself can suggest, had the mission of leveraging the power of volunteerism in Nepal.
There is no doubt that Nepal boasts one of the highest level of social capital in the entire world and this maybe also as effect of the dysfunctional governance in the country.
Yet we felt that the country was not doing enough to promote and support local volunteers, persons from all the walk of life who are very dedicated, passionate and committed to their own communities.
That's how we started ENGAGE and immediately we came to know the reality of youths living with disabilities, especially youths with visual impairment.
For this reason we created a program called Guiding Hands, an initiative aimed at supporting local youths with visual impairment in need of some help in reading and recording their text books.
We did that by matching our friends with visual impairment with sighted peers, a connection initially based only on a need of help that later on, often turned into a real friendship.
That was the beginning of an incredible though not easy path to work with youths with disabilities. 
Fast forward to 2017, ENGAGE still works on supporting visually impaired youths though more on a tailored made and on need basis but also started focusing more and more on the power of sport playing to create social inclusion and support the process of self-empowerment of youths living with disabilities.
On July 1st, we had the finals of the 2nd Edition of the Turkish Airlines ENGAGE Empowering League, a unique initiative to promote social inclusion and disability rights on one hand but also to elevate the game of wheelchair basketball to the highest levels.  The finals ended in positive notes with five hundred spectators coming over to watch the games.
The League is the premier wheelchair basketball event in the entire South Asia and has the ambition of making Nepal a powerhouse not only in wheelchair basketball but a real springboard to develop other adaptive sports in the country.
Positively we are not starting from scratch but there are already strong foundations with a small group of very committed NGOs, most of them run by persons living with disabilities, who are taking the lead in the promotion of adaptive sports.
From tennis table, to powerlifting to blind cricket and boccia, Nepal is emerging as a country that has a huge potential in the sector of disability sports.
If you think of adaptive sports just from the social perspective, you would miss something important and probably you will misunderstand the entire movement.
While sports are very powerful to promote awareness on disability rights and social inclusion, here we are talking of sport disciplines in their own that in many countries are played at very high level and in many cases even professionally.
For example wheelchair basketball is played professionally in many European countries and thousands of people go to watch the games.
The finals of the wheelchair basketball competition, both male and female at the Paralympics game in Rio de Janeiro last year attracted millions of people on television.
The potential is huge. We just need to work hard to let people know about adaptive sports. 
Obviously the private sector can play a very important role here.
We were very lucky in having Turkish Airlines as title sponsor of the League, helping not only financially but also logistically. 
We also managed to create a network of corporate and not for profit agencies involved in the League, including a strategic role played by the Embassy of Switzerland that was instrumental in the organization of awareness programs at school level.
Much more can be done. The participating teams, six male and four female, are only based in Kathandu and we have the ambition to go beyond the Valley and reach out other persons with disabilities willing to play in the League.
In running the League, we remained strongly rooted to our commitment to promote volunteerism and volunteers are at the foundations of the initiative with a volunteering coaching program supporting the teams and a group of committed volunteers taking care of all the logistics related to the games throughout the initiative.
Obviously volunteerism as we saw earlier on with Guiding Hands is a powerful "connecting" tool that creates long standing friendships but it is not enough.
We also need to do more in terms of advocacy and networking and this is one of the reasons why a group of disable people led not for profit organizations established last year the National Disability Sports Network Nepal, NDSNN as an advocacy forum to lobby the government to do more to support the adaptive sports in Nepal.
The Ministry of Youth and Sport is the co-convener of the League and we believe having the Ministry on board is very important.
At the same time, we hope that the Ministry, together with other stakeholders like the National Sport Council can do more in future to support not only the League but the entire adaptive sports movement.
We hope that the two existing Paralympic committees will set aside their divergences and come together in a renovated commitment that goes beyond their personal egos.
Laxmi Kunwar, one of the two national athletes who went to the Paralympic Games in Rio de Janeiro lamented that she had only few months to prepare herself and not real support from the institutions.
Laxmi, the national best swimmer and a top wheelchair basketball player, has a huge potential but faces many frustrations and obstacles on daily basis. Like her, many more adaptive sports athletes face the same, often humiliating, situation.
The Turkish Airlines ENGAGE Empowering League is a platform to show that adaptive sports can be played at the highest levels and with proper support, the conditions can be set for Nepal to become a trailblazer in the sector.
The next Paralympic games are set for Tokyo 2020. We still have time to organize a strong national delegation and compete at the highest levels but we do not have a single day to lose.