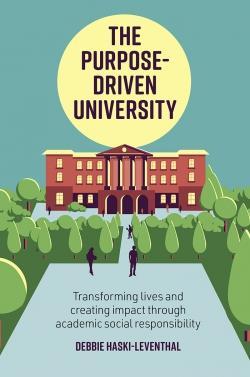 https://books.emeraldinsight.com/page/detail/The-Purpose-Driven-Universi...
What is the purpose of universities, and what is their role in our world? Many would say that it is to educate students and conduct research. This is true, but somehow, the narrow focus on these two goals led universities to be perceived as ivory towers and detached elitist institutions. 
In an era when many organisations shift towards purpose, responsibility, and sustainability, universities have a role to play in becoming a force for good. While many higher education institutions are focused on being the best for the world, some are changing to become the best for the world. A movement has begun. 
A purpose-driven university utilises its resources, knowledge, talent and people to continuously and intentionally contribute to the communities and the environment in which it operates: through research, education, programmes and service. 
This timely book offers the why, how and what of a purpose-driven university, utilising cases, research, concepts and a framework which can be implemented in any university interested in making a difference. This book tells the stories of purpose-driven universities and other organisations, and serves as a call for action by academic leadership to change higher education for good.
Chapter 1. On Purpose, Impact, Vision and Mission 
Chapter 2. The Multi-level Benefits of a Strong Purpose
Chapter 3. Responsibility, Ethics and Sustainability in Higher Education Institutions: A Holistic Approach  
Chapter 4. Leading Universities towards Purpose: The Role of University Leadership 
Chapter 5. Purpose-related Stakeholders
Chapter 6. Measuring Impact and Storytelling
Chapter 7. Leading the Change
Chapter 8. The Purpose-Driven University Model: Six Steps for Holistic Implementation
Chapter 9. The Way Forward in Higher Education
Debbie Haski-Leventhal is a Professor of Management at Macquarie Business School, and an expert in Corporate Social Responsibility (CSR), Responsible Management Education and Volunteerism. Together with the United Nations Principles for Responsible Management Education, she conducts studies on business students around the world and their attitudes towards responsible management. She has published over 100 papers, and her work has been frequently covered by the media, including the New York Times and the Financial Review. She is a TED speaker and the editor-in-chief of Society and Business Review (Emerald).