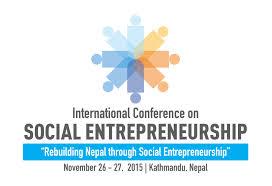 While the era of traditional aid for development is inevitably winding down but not over yet, Nepal has a great potential to harness the power of social innovation to boost a different and more effective ways to free vulnerable citizens from poverty. 
Social innovation is not a monolithic paradigm and the interesting thing with it is its potential to develop a new framework that takes the best out of traditional ways of doing development and mix it with the newest trends, more and more focused on markets to fight poverty.
Doing social innovation could mean designing services for the citizens with having their needs and concerns in mind. If you work in any not for profit organization, you know how difficult is to navigate the different local public offices to gather all the required authorizations.
The fact that you need to move around different "sector" related offices it makes you realize how divided and un-coordinated the public services are.
Think instead of having "One Stop Shop" that, at district level, can deal with all social related issues, a set up that would recognize the complexities of any type of development work.
If you work for children, you automatically know that you need to work with parents, with schools and with locally health infrastructures. 
How more effective would it be to have one shop stop where local public officers are available not only to "stamp" your request papers but are also keen to offer their insights and suggestions during the conceptualization of your ideas.
Another example of doing social innovation would be to create new cross sector collaborations and partnerships to reduce unemployment rates among vulnerable groups of the society.
In Canada two local not for profits working in the disability sector, the Canadian Association for Community Living and the Canadian Autism Spectrum Disorders Alliance recently announced a partnership with a private umbrella organization representing the tourism sector, Tourism HR Canada, to find new measures for more persons living with disabilities to get jobs in the hospitality industry.
Generally speaking, social innovation might include anything thought out of the traditional boxes to create positive changes in the society.
In a country like Nepal, with millions of youths unemployed and with their potential still untapped, bringing new ideas to generate wealth and enhanced human development at grassroots levels, could bring together different players and stakeholders in new forms of synergies to achieve systematic changes in the social-economic system.
In short Nepal could turn into a beacon of innovative social practices that create bridges between traditional not for profit, corporate houses and the state.
Interestingly enough some opportunities are being created to harness a new way of working in the social sector. 
Incubators, places where new ideas are cultivated and nourished through mentoring and funding, are being set up including for example Idea Studio, the partnership between Child Reach, an NGO, UNICEF and Kathmandu University School of Management.
Oftentimes these "factories" of social innovation are investing on a specific area like social entrepreneurship that, in a very simple way, can be defined as an approach that uses a market solution  to offer services or products that change for better the lives of persons living in poverty.
Social entrepreneurs are individuals moved by strong ideals but proposing solutions that are sustainable from the point of view of the market and therefore generate profits.
In Nepal we have many budding social entrepreneurs' thanks also to two editions of a national social entrepreneurship award organized by Change     Fusion, a real pioneer of the sector.
From farming to provision to innovative health services or agencies providing effective training or setting up a low cost early childhood education centers, applying a business approach to social issues is slowly making a difference throughout the country.
Yet we should control  the temptation of thinking about social innovation or social entrepreneurship by out rightly rejecting everything related to more traditional developmental work. 
If not for profit organizations, development partners, corporate houses and budding entrepreneurs come together with their best of their "separate" worlds, we set in place the conditions for enhanced social impact locally.
Globally, The Philanthropic Initiative or TPI is trying to bring innovation in how charity money is being delivered, often adopting business inspired models.
Indeed it is the high time to create an indispensible link between all the initiatives, either for profit or not for profit that have a common mission of uplifting people from poverty.
Very few people know the potential in Nepal to develop socially responsible private companies like the so called B Corporations in the USA.
We also have a legal framework, though still to be developed, for public interest companies. It is a pity that in the recent changes in the corporate governance of yet to be established new private schools, no proposals were made to have them registered as public interest companies rather than the more traditional trusts.
"Social Purpose Organization" is the new jargon that, powerfully enough, includes traditional and new businesslike approaches. We should start using it also in Nepal.
Surely, doing social innovation is not an easy task: designing new services or new products with a social dimension require not only a lot of efforts and commitment but also an investment of capital with a high risk of failures.
A recent study on social incubators from the Asia Venture Philanthropy Association, Effective Social Incubation, First Insights from Asia, shows how challenging is creating the right supporting environment for successful social enterprises.
Nepal's efforts in incubating social enterprises are still at primordial stages and we are still on time to learn from nations where social enterprises have a more established tradition.
There is an urgent need to understand more the intricacies of trying doing things differently within the social, business and public sectors alike.
The upcoming International Conference on Social Entrepreneurship hosted by King's College, whose organization is itself an example of cross cutting partnerships, to be held in Kathmandu on 30th of June and 1st of July, has the potential to be a game changer in forging a new consensus.
King's College is an institution who is taking not only social entrepreneurship seriously but it is trying o reinvent the way research is being done in the country.  By setting up an internal eco-system of research institutions fostering new collaborations and synergies across the sectors, for example the Center for External Collaborations, the Center for Innovation & Entrepreneurial Development among others, King's is walking the talk.
By bringing together more than thirty social entrepreneurs and renowned experts from around the world, the conference  aimed at rethinking  ways to re-build the country after the quakes, can kick off a conversation on the way new approaches can harness synergies and collaborations for the betterment of millions of citizens still struggling in their daily lives.