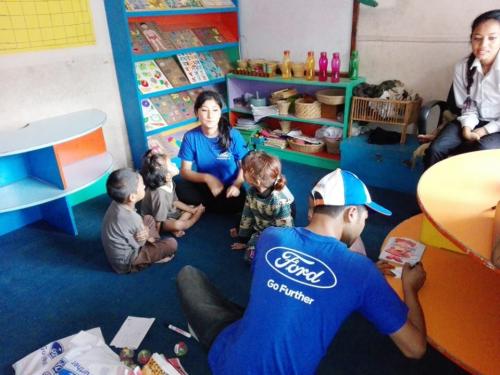 There are many great ways of doing "Corporate Citizenship" oftentimes referred more commonly as Corporate Social Responsibility.
Charity donation is the most common form for a corporate player to do add on its own contributions to the society in terms of employment and wealthy creation resulting from the services or products sold in market.
Actually there are many other forms of doing Corporate Citizenship and one till now much neglected in Nepal is corporate volunteerism where employees or even retirees from the same company are involved in some forms of meaningful work with a strong social purpose.
GO FORD, the exclusive dealer of Ford Products in Nepal, changed the paradigm of corporate social engagement when its own employees took part, during the month of September, to the Global Caring Month, an initiative promoted all over the world from Ford Motor, one of the biggest car manufacturers.
The company has a long established corporate volunteer program called Ford Volunteer Corps that, since 2005, contributed 112,000 hours of service, mobilizing more than 20,000 employees and retirees, an initiative worth approximately $29 million of in kind investments.
In Nepal, the employees of GO FORD, got active supporting Koseli School that works for the wellbeing of vulnerable children from disadvantaged communities.
The program, run throughout September, also involved charity giving through Bill Ford Better World Challenge where for example a $200,000 grant for Thailand Clean Water Community Project that was designed by the employees of FORD Thailand.
It is certainly not the first time that corporate employees get involved in some sort of social work in Nepal. For example Standard Charted Bank is very active on the front and even has its own employees run NGO.
Yet most of the time is about spending just few hours in a local social purpose organization to drop some gifts, a sort of charitable" touch and go" or when many corporate houses felt compelled to donate to the Prime Minister's emergency fund in the aftermath of the quakes.
I am sincerely hope that GO FORD will continue its engagement with Koseli School on the long run because the effectiveness of such programs can be only measured along the time against a certain framework of indicators and benchmarks.
Otherwise the risk is to have just another nice but not so effective program that won't produce much of an impact.
Corporate Volunteerism programs can be designed in different ways according to different budgets available but these are the most important features:
Employees driven: while the senior manager can embrace the idea enthusiastically, it is very important there is a strong buy in from the employees and why not, their families so that the mission of giving back to the society can be shared among the most loved ones. Even if the idea comes from the management, staff should be encouraged, motivated and even challenged in designing the initiative.
Begin with the end in Mind:  This is a concept of Stephen R. Covey that means a company must think and plan well before starting: where and what do and which change is going to happen after the interventions. This should not be a problem in a country like Nepal where it is very normal to find persons involved as volunteers in many not for profits.
It is not really about money: certainly corporate volunteering might require some financial costs but the central idea is about using the manpower of a company to bring some changes in the local communities. The problem I see here is that most of private businesses operate a 6 working day schedule a week. This means the employees have limited free time at disposal for corporate volunteering. A win win would be, as said before, inviting and mobilizing family members. Another option, very common overseas, is to allow some percentage of working time to be dedicated for corporate volunteerism within a year. This requires proper planning and a strong will from the senior management but it should not be too complicated to take out 3 hours in a month for a good cause to support.
It is should be about skills: This is probably the most important feature. The most advanced form of corporate volunteering is the one using in the best way possible the technical skills of the employees. This means, for example, that the accountants at GO FORD will support the Koseli School finance section in devising a better accounting system or the marketing guys supporting with ideas and technical expertise a flesh mob or crowd funding for the school.
FORD like Standard Chartered are huge multinationals but here we have an opportunity to get inspired and localize best practices to bring in new meaningful and long term partnerships at community levels.