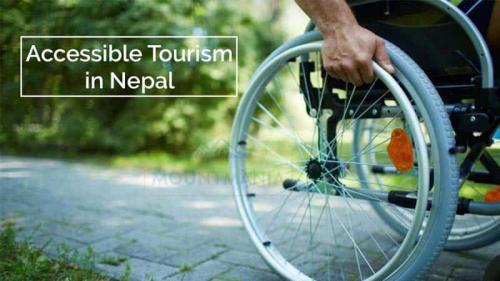 In Kathmandu there are numbers of hotels and restaurants. Everywhere you go, every corner of the valley, you will notice lots of eateries and increasing number of hotels.
The problem is that most of these places are not accessible meaning that a person with disabilities cannot access to eat food and travel freely, enjoying her basic rights like everyone else.
Indeed the true is that there are very few accessible hotels and places where person with disabilities can easily access to enjoy themselves and get access to a variety of entertainments.
I am embarking myself on a journey to discover which hotels that can claimed to be truly accessible and disable friendly.
Let's review some of these destinations.
Hotel Hardhik is one of the popular hotels which we can found in Kathmandu valley. It is situated at Bagbazar near to P.K College.
This hotel is totally disabled friendly and it is of great value for money.
The hotel has invested in disabled friendly infrastructures where person with disabilities can easily move around this hotel area.
The hotel's room offers accessible bathroom for the physical disabilities and accessible parking so that also three wheelers or persons with special needs travelling in scooter can easily park.
We can easily enter into its reception area and ramps have kept for access to enter into the hall room.
Different programs and seminars have organized in this hotel where persons with disabilities face no obstacles or any structural challenges so that they can easily participate.
There are accessible rooms where persons living with disabilities can easily stay.
Last but not the least, this hotel serves delicious food with healthy manner and good hospitality towards their customers.
This hotel achieves special award titled Innovative Award in the field of accessibility given by National Federation of Disabled Nepal, NFDN Nepal partner organization  CBM International.
Due to these accessible features, it is really possible to promote accessibility tourism and increase the economic growth of the country even if you cannot afford a top of the end accommodation.
Indeed without paying too much money , Hotel Hardhik offers quite an affordable option. Certainly we are not talking of a luxurious resort but a simple and clean place that offers value for money.
Chandragiri Hll is one of the famous destinations to visit and it is owned by Chandragiri Hills ltd.
It is located at Kathmandu valley, approximately 15 km from the city centre and it is surrounded by a marvelous environment in the hills surrounding the capital. This resort is totally disabled friendly where person with disabilities can easily access to travel in this hill.
The structure of this Chandragiri Hill is accessible where senior citizens, children and person with disabilities have access to visit this hill.
The resort has accessible ramp, toilets, trek route, and cable car and many other facilities which makes easily during the travel journey. The main attraction is to travel in the cable car from base to the top.In this car only 8 people can travel per time.
We can view amazing Himalayas from this hill. There is a famous temple Bhaleshow Mahadev situated at the top of the hill where local people can worship in that temple.
This resort features a long stone inscribed monument image of Prithivi Narayan Shah viewing the Kathmandu valley from Chandragiri. Chandragiri Hills also received "Innovative award" for its accessibility given by NFDN.
Chandragiri Hills differs on many ways from Hotel Hardhik: if the latter could target budget tourists with disabilities, the former offers a great destination at accessible cost.
Both are doing a great service to promote Nepal as disable friendly destination.