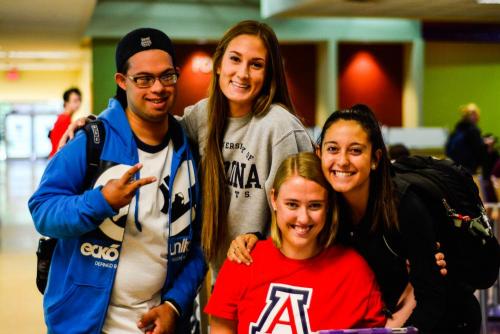 The recent US presidential election, November 8, has led to a lot of personal sadness.  With the election of President Obama in 2008, the last time that I lived and voted in the US, I felt a strong sense of pride and felt that the US was on the verge of a progressive agenda.  However, for  those of us who aren't happy with the election results, it is vital to maintain hope
Two days after the election I met with Colleen Middleton and Kirsten Lansey of Project Focus at the University of Arizona.  The mission of Project Focus is, facilitating opportunities with community and university supports to transition aged students, 18-22, who have intellectual disabilities in accessing the academic and social opportunities available at the University of Arizona resulting in the acquisition of academic knowledge, increases in self-determination, and successful, gainful employment. 
I came into contact with Project Focus through the University of Arizona Women's Wheelchair Basketball team as one of our players is a young woman named Kristine who is also living with a number of other disabilities.  Kristine like many of the Project Focus young adults wants to live a full life, which includes everything that college has to offer.   Although Kristine my never play regularly on the team, every week she attends practice with her peer mentors and has shown great improvements in her chair skills and understanding of the game.  Kristine is a person with an incredibly positive attitude and an unbridled excitement when it comes to our games. I often see her in her motorized wheelchair throughout campus going to attend one of her classes or meeting with her peer mentors. 
When I worked/volunteered through VSO at the National Trust in India from March 2009-February 2012, I came into contact with a number of NGOs working with people with intellectual disabilities.  I helped with strategic planning at MUSKaaN in New Delhi, which was founded by Dr. Shanti Aluck, an incredibly hopeful person, who has a son with intellectual disability.  The MUSKaaN vision is, "a society  which recognizes human diversity and respects the rights of all people irrespective of their levels of ability".   MUSKaaN has a strong focus on rights, developing life skills and providing vocational training opportunities.  There a number of other progressive NGOs working with people with disabilities.  However  I didn't come across any organisations quite like Project Focus. 
In the US there is legislation such as the Higher Education Opportunity Act of 2008 reauthorizing the Higher Education Act of 1965 which contains a number of important provisions that improve access to postsecondary education for students with intellectual disabilities.  This led directly to the establishment of Project Focus at the University of Arizona in 2010.  Although the mission of Project Focus is helping to meet the 2008 legislation and there was funding for the initial years there are issues as noted by the necessity to do a crowdfunding campaign. 
Project Focus is working because it is based on a variety of partnerships. This starts in working with School Districts in Pima County Arizona, through the college peer student mentors to The Edge Program offering job ready workshops, through the Disability Resource Center, which I wrote about two weeks ago, offering interpretive and testing services and through the state agency Vocational Rehab Services. 
This is very much about creating an inclusive society where everyone based on their abilities has access to a full life.
Both Kirsten and Colleen are extremely strong, passionate and enthusiastic advocates for the community in which they are working.  They both obtained an MA in Multiple and Severe Disabilities in Special Education from the University of Arizona.  Colleen found this passion while serving in the Peace Corps in St. Lucia and helping to organize the Soufriere Special Education Rehabilitation Centre in the center of the Country. 
As human beings we have to persevere no matter what we run into.  This enables us to have hope in the face of darkness. I found this continually in the people of Nepal, no matter what was happening somehow people persevered.  Kirsten told me that, "it is society that needs to change not individuals with disabilities".  In many ways she is right and I see this in Tucson where I'm living, as removing barriers seems to have a great priority.   Although students with intellectual disabilities are the most marginalized in the US through Project Focus there is the ability to provide dignity of choice to these students something which gives me hope for getting to the light.