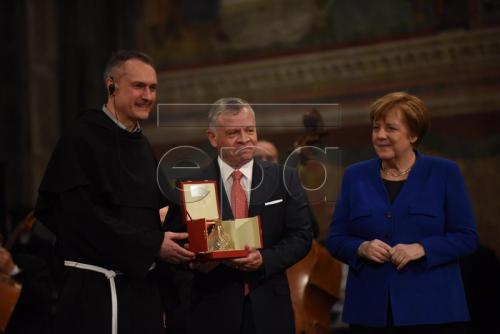 http://www.ansamed.info/ansamed/en/news/sections/politics/2019/03/28/kin...
https://www.dw.com/en/angela-merkel-presents-peace-prize-to-jordanian-ki...
His Majesty King Abdullah arrived in the Italian city of Assisi on Thursday, where His Majesty will receive the 2019 Lamp of Peace award on Friday, at a ceremony that will be attended by Her Majesty Queen Rania Al Abdullah.
His Majesty will receive the award in recognition of his efforts to promote human rights, harmony, interfaith dialogue, and peace in the Middle East and the world.
The King will deliver a speech at the prize ceremony, which is organised by the Franciscan Friars of the Sacred Convent of Assisi and will be attended by German Chancellor Angela Merkel, Italian Prime Minister Giuseppe Conte, and a number of international political, intellectual, and religious leaders.
"What is the 'Lamp of Peace'?
The "Lamp of Peace" is a replica of a glass oil lamp that burns at the side of the grave of Saint Francis of Assisi, the founder of the Franciscan order behind the peace prize. The award aims to honor those work towards promoting peace and harmony. It was first presented in 1981 to Polish trade union leader Lech Walesa. Other recipients include Pope John Paull II, the Dalai Lama, Saint Teresa of Calcutta and former Russian leader Mikhail Gorbachev. Former Colombian President Juan Manuel Santos received the prize in 2016, along with the Nobel Peace Prize, for his efforts at reconciliation amid his country's civil war.