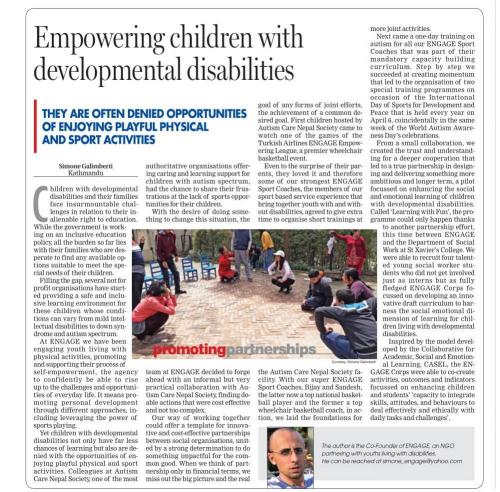 Children with developmental disabilities and their families face insurmountable challenges in relation to their inalienable right to education.
While the Government is working on an inclusive education policy, all the burden so far lies with their families who are desperate to find any available options suitable to meet the special needs of their children.
Filling the gap, several not for profit organizations have started providing a safe and inclusive learning environment for these children whose conditions can vary from mild intellectual disabilities to down syndrome and autism spectrum.
At ENGAGE we have been engaging youth living with physical activities, promoting and supporting their process of self-empowerment, the agency to confidently be able to rise up to the challenges and opportunities of everyday life. It means promoting personal development through different approaches, including leveraging the power of sports playing.
Yet children with developmental disabilities not only have far less chances of learning but also are denied with the opportunities of enjoying playful physical and sport activities.
Colleagues at Autism Care Nepal Society, one of the most authoritative organizations offering caring and learning support for children with autism spectrum had the chance to share their frustrations at the lack of sports opportunities for their children.
With the desire of starting doing something to change this situation, the team at ENGAGE decided to forge ahead with an informal but very practical collaboration with Autism Care Nepal Society, finding doable actions that would were cost effective and not too complex. 
Our way of working together could offer a template for innovative and cost-effective partnerships between social organizations, united by a strong determination to do something impactful for the common good.
When we think of partnership only in financial terms, we miss out the big picture and the real goal of any forms of joint efforts, the achievement of a common desired goal.
First children hosted by Autism Care Nepal Society came to watch one of the games of the Turkish Airlines ENGAGE Empowering League, a premier wheelchair basketball event.
Even to the surprise of their parents, they loved it and therefore some of our strongest ENGAGE Sport Coaches, the members of our sport based service experience that bring together youth with and without disabilities, agreed to give extra time to organize short trainings at the Autism Care Nepal Society facility.
With our super ENGAGE Sport Coaches, Bijay and Sandesh, the latter now a top national basketball player and the former a top wheelchair basketball coach, in action, we laid the foundations for more joint activities.
Next came one day training on autism for all our ENGAGE Sport Coaches that was part of their mandatory capacity building curriculum.
Step by step we succeeded at creating momentum that led to the organization of two special training programs on occasion of the International Day of Sports for Development and Peace that is held every year on the 6th of April, coincidently in the same week of the World Autism Awareness Day's celebrations.
From a small collaboration, we created the trust and understanding for a deeper cooperation that led to a true partnership in designing and delivery something more ambitious and longer term, a pilot focused on enhancing the social emotional learning of children with developmental disabilities.
Called "Learning with Fun", the program could only happen thanks to another partnership effort, this time between ENGAGE and the Department of Social Work at St. Xavier College. We were able to recruit four incredibly talented young social worker students who did not get involved just as "interns" but as fully fledged ENGAGE Corps focused on developing an innovative draft curriculum to harness the social emotional dimension of learning for children with developmental disabilities.
Inspired by the model developed by the Collaborative for Academic, Social and Emotional Learning, CASEL, the ENGAGE Corps were able to co-create activities, outcomes and indicators focused on enhancing children and students' "capacity to integrate skills, attitudes, and behaviors to deal effectively and ethically with daily tasks and challenges."
The program was implemented not only at Autism Care Nepal Society but also at Shanti Sewa Griha, another leading social welfare organization caring for children with different disability conditions.
In the case of Autism Care Nepal Society, the program was more tailored at enhancing several dimensions of social emotional learning, for example, social awareness, relationship skills and responsible decision making by engaging children and youth through sport and fitness related activities.
Urja and Grishma, the two ENGAGE Corps from St. Xavier, showed not only great creativity and grit but also a deep understanding of the theoretical aspects of the proposed framework that has been readapted and tailored made thanks to the technical expertise and guidance of the team at Autism Care Nepal Society.
Doing by doing, the activities got more organized, better explained and more sophisticated as both Grishma and Urja and the kids gained confidence in the execution, in a great example of mutual learning.
It has been a demanding job that required deep reading, brainstorming, drafting and continuous improvement and yet the results of the pilot have been encouraging.
With more resources available, a more professionalized service experience can be designed in future but the key message is that a joint desire to do something different and innovative, nourished by mutual trust and friendship, can really bring changes.
A simple invite to a sport event led to a collaboration that took us to a deeper form of engagement and cooperation.
That's how, I believe, partnership should be promoted and celebrated.