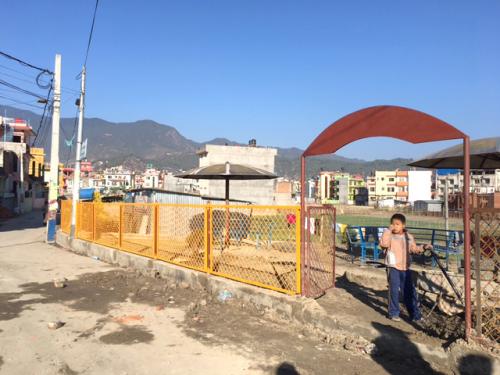 If you are too worried about the alarming levels of dust, there is a new initiative that has the potential to improve and redesign the way we all experience urban life.
Imagine all wards within the Valley but potentially expand your horizon beyond it and visualize new micro-parks, all managed and taken care by local communities.
Parkmandu, this is the name of the initiative, can literally reclaim our urban spaces and make them livable and enjoyable not only for the children but for each of us.
If you think well, it is not too rare to find small corners of green in different parts of the Valley but either are totally neglected or abandoned (see for example UN Park) or they are wonderfully well maintained, mostly by corporate houses, but are shut down and inaccessible most of the times.
A brainchild of Marcela Torres and Walter Morselli, Parkmandu is not just theoretical concept  but it is already "action" that is happening with one park currently under construction in Sunda Basti while there are advanced planning for a second and bigger intervention in Golfutar.
Marcela is an architect from Bogota, Colombia with a vast experience in participatory design and a great enthusiast of innovative ways that help regenerate local communities while Walter is a creative designer and world explorer originally from Modena, Italy who loves blending the magical spirit of art and crude reality of life.
With such an incredible background, (they also count with the expertise Oskar Frelin & Jens Hansen Holm, a urban planning firm from Denmark who is also has ambitious plans to regenerate the Bagmati River), Marcela and Walter shared their knowledge and expertise with the local communities and supported them all the way to create the park in Sunda Basti.
The incredible thing is that Parkmandu is not driven by donations but is completely owned by local communities who find the resources needed for the creation of the parks.
Parkmandu is a not just a new way of living and thinking about urban space but it is a philosophy of life, a small idea that could generate a movement of activist citizens, to be enthusiastically embraced by thousands of people, the same people who made the Save Bagmati Campaign a real success or the bicycles fanatics that do not stop dreaming of a cycleable Kathmandu.
Marcela and Walter shares "Parkmandu goes further than just building parks. We want to engage communities to improve their environments and living conditions through participatory design. We want design to encourage people to be proactive in society and to work for their cities".
Here we have a great chance of embracing the ideas underpinning Parkmandu and do our best to support Marcela and Walter in their ambitious goal of turning the Valley into a better place to live.
Such initiatives, if supported by other like minded programs, could potentially kick off a new urban renascence and lead a urban transformation.
Obviously we need resources and here I am talking first of all about human resources, citizens from all the backgrounds who can really back Parkmandu in creating tens of such parks and gardens all over the Valley. Secondly, yes there is also need of money but we know that there is money around.
Then why not dreaming high?
The initiative could also become a platform for advocacy and collective action where persons decide to come together and forge ahead to regenerate urban spaces.
Parkmandu can become a forum of discussion where citizens can debate about conservation and urban planning while at the same time, it can be truly "crowd driven and funded" with groups of citizens stepping up to make their ward better and more livable.
Everybody, not only intellectuals or corporate people, would enjoy living in a greener town and therefore we have the opportunity to create a truly inclusive movement not only in Kathmandu but throughout the country.
Think if a group of students, members of the local youth club and representatives of a local community school, together with the shops owners, decide to take action and create and manage a small garden or park in their ward.
The municipality, wards offices and possibly the central government should not only support them and Parkmandu but embrace their project to the fullest.
Things can happen in Kathmandu and things can change for better. Look at the new Ratna Park or the amazing though simple Naxal Park. Then, why do not we continue with micro interventions that are cost effective and can be owned by the communities?
According to Marcela and Walter, "Building Parkmandu is building a proper future for the next generations. Its a small seed that will help greenery grow in the city".
Who would not agree with them? Readers are invited to visit https://www.facebook.com/parkmandu/ and contact Marcela and Walter.